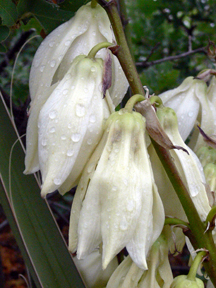 NPS Photo by Sally King
Yucca leaves are stiff and full of fibers. The yucca leaves were collected and stripped of fibers. The fibers were then woven into sandals, baskets, or rope. Twine made from yucca fiber was twisted with wet turkey feathers or strips of rabbit fur to made nice warm blankets. Imagine curling up on a cold winter's night under a nice warm thick turkey feather blanket you had just made. The people could chew one end of a short length of yucca leaf, exposing the fibers and producing paintbrushes for decorating pottery. If you've ever accidentally backed into a yucca plant you know a sharp, hard point tips each leaf. These sharp leaf ends could be used as needles for sewing when combined with the fibrous threads from the leaves.
The soft, fleshy fruit of the yucca was a staple of Ancestral Pueblo diet. It could be eaten raw, cooked, or mixed with other ingredients. In early summer the yucca blooms with shiny white flowers. These flowers are sweet and can be eaten raw. If you're very hungry, you can even eat the root. Unfortunately, it's like washing your mouth with soap since it tastes like detergent.