The Rio Grande Coalition Period
THE RIO GRANDE COALTION PERIOD (1150 CE - 1325 CE)
Many Ancestral Pueblo people began arriving on the Pajarito Plateau from the Four Corners Region around 1150. They knew of this land before their arrival through trade and cultural exchange.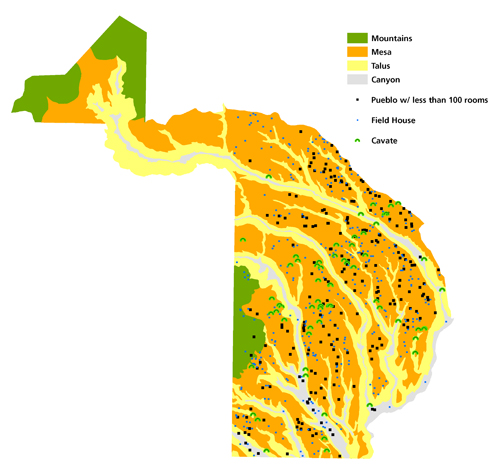 NPS Collections
Old Knowledge, New Land
Changing conditions caused the Ancestral Pueblo people to leave their homes in places like Chaco and Mesa Verde. Some of them eventually moved to this area to live. The Plateau offered farmland, plentiful forests for fuel, and an abundance of wildlife and native plants. The Ancestral Pueblo people brought their experience in dry-land farming and community life. Population increased rapidly through the 1200s as more and more people arrived from the north. In this period, people lived in hundreds of small villages, each used for a few generations. Then, probably because farmland and nearby resources became depleted, the people moved on to create new homes in nearby locations.
Increasing Population
Pueblos became larger and more permanent as the population increased. Ancestral Pueblo people became more reliant on agriculture and developed many strategies for growing crops under difficult conditions such as dry weather and infertile soils. To augment their diet, the people of this period continued to hunt, gather wild plants, and raise domesticated turkeys.