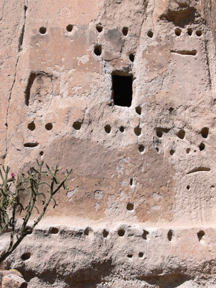 NPS Photo by Sally King
How Many Stories
Dwellings built along the base of the canyon wall were often more stories than similar ones built on the canyon floor. These dwellings used the support of the canyon wall. One can determine exactly how many stories tall they were by looking at the rows of viga holes.
Cavates
Cavates, carved rooms, were also common behind the rooms built at the bottom of cliffs. Luckily, the tuff is soft and malleable. Carving these rooms using stone tools would have still been very difficult. The walls of the cavates were often plastered and the ceilings smoked. Smoking the ceiling made it less crumbly. Sometimes pictographs painted on or petroglyphs were carved into the walls.