Bookstore
Canyonlands Natural History Association (CNHA) is a nonprofit organization assisting the National Park Service in its educational, interpretive and scientific programs throughout southeast Utah. Known as a "cooperating association," CNHA's goals include enhancing visitors' understanding and appreciation of public lands by providing a selection of quality, educational materials for sale in many vistor centers. Twenty percent of these sales is returned to the National Park Service and other federal land management agencies.
To learn more, shop online or become a member, visit www.cnha.org. Staff are also available by phone during normal business hours at (435)259-6003.


Did You Know?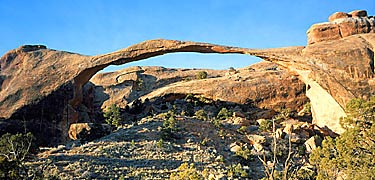 Landscape Arch is the longest Arch in Arches National Park, measuring 306 feet from base to base. In 1991, a massive slab of rock fell from its underside, resulting in an even thinner ribbon of rock.