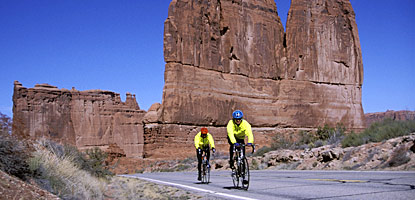 NPS/Herbert
Bicycles are permitted on all paved and unpaved roadways within the park but not on any of the trails. There are no bike lanes or paved shoulders. Cyclists must ride single file at all times with the flow of traffic. Cyclists should expect large buses and RVs on the road. Signs warn drivers that bikes might be present and to keep a minimum of three feet from all riders, but cyclists should remain very alert to passing vehicles.
There are many options for riding bikes outside the park. Moab is surrounded by mountain biking trails of every difficulty level, from dirt roads to technical singletrack. Popular road rides abound, as well. A paved bike path connects the gateway community of Moab with the entrance to Arches, and continues along Highway 191 to Highway 313 (which leads to Canyonlands National Park and Dead Horse State Point).

For information about mountain biking or road biking in the Moab area, visit www.discovermoab.com.
If you do plan to ride your bike in Arches:
Consider coming early in the morning when there isn't as much traffic.
Some of the narrowest road sections are along the switchbacks above the visitor center. Riders can skip this section by shuttling their bikes to the La Sal Mountain Overlook, where there is usually adequate parking.
The Salt Valley and Willow Springs dirt roads are less traveled but are more suited to mountain bikes due to washboards, deep sand, and other obstacles.