Photos & Multimedia
Multimedia Presentations
Watch an orientation video, learn more about guided hikes in the Fiery Furnace, check out our online flower guide and more!
Photo Gallery
View pictures from the park's photograph collection and download royalty-free, high-resolution images.
Community Artist Program
The Community Artist in the Parks program was created in 2009 as a way to highlight the connection between local artists and landscapes.


Tiny Forests in the Desert

Listen as Dr. Sasha Reed explains how damage to biological soil crust can have greater consequences than you think. Read More
Did You Know?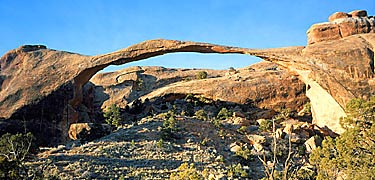 Landscape Arch is the longest arch in Arches National Park, measuring 306 feet from base to base. In 1991, a massive slab of rock fell from its underside, resulting in an even thinner ribbon of rock.