Delicate Arch Viewpoint Inaccessible

Wolfe Ranch and the hiking trail to Delicate Arch are open, but flood waters and mud have blocked the road to Delicate Arch Viewpoint.
Safety in Bear Country

Black bears have been seen near Devils Garden Campground. Don't lure or feed them. Dispose of trash in designated receptacles; don't leave it in bags or other soft containers. Store food in vehicles or hard containers when not being prepared or consumed. More »
Free Art Lessons in Arches National Park
News Release Date:
October 31, 2013
Contact:
Karen Henker
Let the scenic beauty of Arches National Park inspire you -- and your kids. On Saturday, November 9, 2013, take a free family art lesson with
2013 Community Artist-in-the-Parks, Sarah Hamingson
. All materials provided -- just bring your inspiration.
Pastel lessons will be offered at the North end of the Park Avenue Trail at 10:00 a.m., 11:00 a.m., & noon, or drop in anytime from 10:00 a.m.-1:00 p.m. (Park at Courthouse Towers Viewpoint and follow signs across the road.) That evening from 6:00-9:00 p.m. at the
Moab Arts & Recreation Center
, view "A Season in the Parks" displaying Sarah's work as Community Artist. (Exhibit will be on display through early December.) Park admission is free Saturday, November 9 through Monday, November 11. 
Did You Know?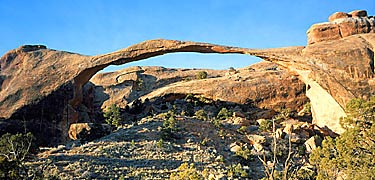 Landscape Arch is the longest arch in Arches National Park, measuring 306 feet from base to base. In 1991, a massive slab of rock fell from its underside, resulting in an even thinner ribbon of rock.