Winter Trail Conditions

All roads and trails remain open, but many trails are snowy, icy, and dangerous. Please inquire at the visitor center for the most up-to-date conditions.
Construction Update - 11/25/2013

Construction work continues at the Devils Garden parking lot, limiting parking and causing occasional delays. Visitors can avoid the area by turning around at Sand Dune Arch. More »
Tamarisk
Of the non-native plant species in Arches, tamarisk is often seen as the most troublesome. This water-loving, Mediterranean plant arrived in North America in the 1800's. It was used initially as an ornamental shrub, and was later planted by the Department of Agriculture to slow erosion along the banks of the Colorado River in Arizona. Spreading upriver at roughly 12 miles per year, tamarisk is now established on all of the Colorado's tributaries.

Once established, dense tamarisk stands increase fire frequency, lower plant and animal diversity, and significantly alter stream hydrology. Tamarisk consumes a great deal of water, and rarely provides food and shelter necessary for the survival of wildlife. Mature cottonwood communities are declining because shading inhibits the growth of their seedlings.

Courthouse Wash in Arches is one of several sites where the National Park Service has made an effort to control tamarisk. Similar control experiments have been established in nearby areas, mostly in small, tributary canyons of the Colorado River.
Did You Know?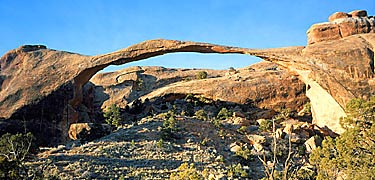 Landscape Arch is the longest arch in Arches National Park, measuring 306 feet from base to base. In 1991, a massive slab of rock fell from its underside, resulting in an even thinner ribbon of rock.