Extreme Fire Danger

Due to extremely dry conditions, fire restrictions are in effect in all national park units in Southeast Utah. More »
Scarlet Monkey-flower (Eastwood's Monkey-flower)
Mimulus eastwoodiae
Family: Scrophulariaceae - Figwort Family
Perennial herbs; stems 2.8" to 1.4' (7 to 43 cm) tall
Leaves: opposite; simple; toothed; fan shaped; lower leaves 0.2" to 0.8" (0.5 to 2 cm) long; upper leaves larger 0.8" to 2.8" (2 to 7 cm) long
Flowers: 5 united lobed scarlet/orange-red tubular petals (irregular flowers with upper lip 2 lobed, lower lip 3 lobed), 5 angled sepals; 4 stamens; showy flowers; bilaterally symmetrical; bisexual; flowers 1" to 1.8" (25 to 45 mm) long
Pollinators: other Mimulus species are pollinated by insects and hummingbirds
Fruits: 2 chambered capsule (dry fruit)
Blooms in Arches National Park: September, October
Habitat in Arches National Park: seeps and hanging gardens
Location seen: outside Arches National Park in hanging garden on Corona Arch trail
Other: The genus name, "Mimulus", is from the Latin "mimus" meaning "mimic" referring to the flowers mimicking a monkey's face or possibly to the monkey-like resemblance of the plant hanging from alcove ceilings. The species name, "eastwoodiae", honors Alice Eastwood (1859-1953), a curator of botany at the California Academy of Sciences.
The family is of important because of many ornamentals and cardiac glycosides can be derived from foxglove.
Did You Know?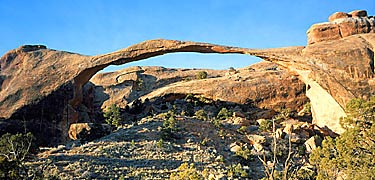 Landscape Arch is the longest arch in Arches National Park, measuring 306 feet from base to base. In 1991, a massive slab of rock fell from its underside, resulting in an even thinner ribbon of rock.