Rock Strata
This sequence shows the rock layers from youngest (top) to oldest (bottom). For clarity, some layers have been included that are not found within the park, but are visible from locations near the park boundary, such as the visitor center. The most dominant rock layers at Arches are the Navajo Sandstone through the Slick Rock Member of the Entrada.
Name of Rock Stratum

Geologic
Period

Millions of
Years Ago

Abajo, Henrys and La Sal Mountains

Tertiary

1.6 to 66

Mancos Shale

Cretaceous

66

to 144

Dakota Sandstone

Cedar Mountain Formation

Morrison Formation, Brushy Basin Member

Jurassic

144

to

208

Morrison Formation, Salt Wash Member

Morrison Formation, Tidwell Member

Curtis Formation, Moab Member

Entrada Sandstone, Slick Rock Member

Carmel Formation, Dewey Bridge Member

Navajo Sandstone

Kayenta Formation

Wingate Sandstone

Chinle Formation

Triassic

208

to

245

Moenkopi Formation

Cutler Group, Undivided

Permian

245 to 286

Honaker Trail Formation

Pennsylvanian

286

to

320

Paradox Formation
Did You Know?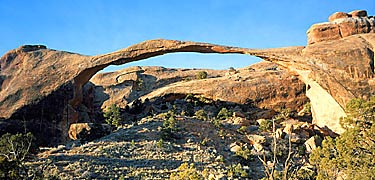 Landscape Arch is the longest arch in Arches National Park, measuring 306 feet from base to base. In 1991, a massive slab of rock fell from its underside, resulting in an even thinner ribbon of rock.