Delicate Arch Viewpoint Road Closed

Due to flash flooding in Winter Camp Wash, the Delicate Arch Viewpoint Road is currently inaccessible.
Extreme Fire Danger

Due to extremely dry conditions, fire restrictions are in effect in all national park units in Southeast Utah. More »
Canaigre (Dock; Wild Rhubarb; Sorrel)
Rumex hymenosepalus
Family: Polygonaceae – Buckwheat Family
Perennial herbs from tuberous roots; 8" to 3.3' (2 to 10 dm) tall
Leaves: alternate; simple; 3.2" to 10" (8 to 25 cm) long, 0.8" to 4.8" (2 to 12 cm) wide
Flowers: 0 petals; 6 petaloid or sepaloid sepals, rarely 4 (the 3 inner segments form papery wings surrounding the fruit); stamens usually 6; 1 pistil; small flowers in clusters usually greenish to pinkish; flower cluster 4" to 16" (10 to 40 cm) long
Pollinators: wind
Fruits: achene
Blooms in Arches National Park: March, April, May
Habitat in Arches National Park: desert shrub communities
Location seen: widespread along park road, across from Park Avenue parking lot, Fiery Furnace parking lot
Other: The genus name, "Rumex", is the ancient Latin name for docks and sorrel plants. The species name, "hymenosepalus", means "membranous sepals" and refers to the 3 inner segments that become papery when the plant is in fruit.
This family's scientific name, "Polygonaceae", is derived from the Greek words "poly" which means "many" and "goni" which means "joint", a reference to many species that have swollen nodes or joints.
Did You Know?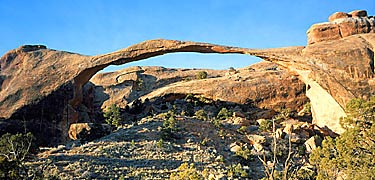 Landscape Arch is the longest arch in Arches National Park, measuring 306 feet from base to base. In 1991, a massive slab of rock fell from its underside, resulting in an even thinner ribbon of rock.