Extreme Fire Danger

Due to extremely dry conditions, fire restrictions are in effect in all national park units in Southeast Utah. More »
Silvery Sophora (Narrowleaf Necklacepod)
Sophora stenophylla
Family: Fabaceae (A Utah Flora – Leguminosae) – Pea Family
Perennial herbs from rhizomes; 5.2" to 1.4' (13 to 41 cm) tall
Leaves: alternate; compound; has hairs; 0.07" to 0.2" (1.7 to 5.6 mm) wide
Flowers: 5 petals (a banner, 2 wings and 2 keels); 5 sepals; bisexual; blue purple to blue; 10 stamens; 1 pistil; 0.6" to 1.08" (15 to 27 mm) long
Pollinators: other Sophora species are pollinated by insects
Fruits: legume
Blooms in Arches National Park: April, May
Habitat in Arches National Park: sandy areas in desert shrub and pinyon-juniper communities
Location seen: park road near junction of Delicate Arch road, Winter Camp wash
Other: The genus name, "Sophora", is from the Arabic "sophira" which is the name of a tree with pea-shaped flowers. The species name, "stenophylla", means "narrow-leafed" coming from the Greek stenos which means "narrow" and "phyllon" which means "leaf".
This family is ranked second to grasses in importance to people because species can fix nitrogen. However, some species, e.g., locoweeds and milkvetches, are poisonous due to selenium abstracted from the soil.
Did You Know?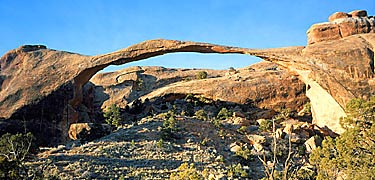 Landscape Arch is the longest arch in Arches National Park, measuring 306 feet from base to base. In 1991, a massive slab of rock fell from its underside, resulting in an even thinner ribbon of rock.