Viscid Rabbitbrush (Low Rabbitbrush)
Chrysothamnus viscidiflorus
Family: Asteraceae (A Utah Flora – Compositae) – Sunflower Family
Shrubs; 8" to 3.3' (2 to 10 dm) tall
Leaves: alternate; simple; entire; 0.12" to 2.4" (0.3 to 6 cm) long, 0.02" to 0.4" (0.5 to 10 mm) wide
Flowers: discoid; 2 to 10 yellow disk flowers; flower head appears to be a single flower, but is composed of several flowers (a composite). Flowers are perfect, fertile; 0.15" to 0.24" (3.8 to 6 mm) long
Pollinators: insects
Fruits: achene – 1 seeded with hard shell
Blooms in Arches National Park: June, July, August, September, October, November
Habitat in Arches National Park: desert shrub, grassland and pinyon-juniper communities
Location seen: Courthouse Towers, Windows, Fiery Furnace parking lot, Salt Valley, park road mile 16, Devils Garden, Devils Garden campground
Other: The genus name, "Chrysothamnus", is from the Greek "chrysos" meaning "golden" and "thamos" meaning "a shrub". The species name, "viscidiflorus", means "sticky flowers".
This family is the most advanced and complex of the dicots. The family is rich in oils and resins and is found in every part of the world, but is infrequent in the tropical rainforest. Aquatic or semi
Did You Know?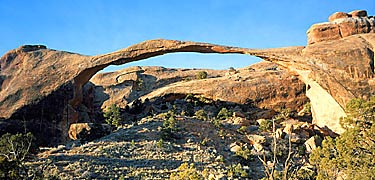 Landscape Arch is the longest arch in Arches National Park, measuring 306 feet from base to base. In 1991, a massive slab of rock fell from its underside, resulting in an even thinner ribbon of rock.