Tomentose Amsonia (Woolly Amsonia)
Amsonia tomentosa
Family: Apocynaceae – Dogbane Family
Perennial herbs; 7.9" to 2' (2 to 6 dm) tall
Leaves: alternate; simple; 0.04" to 0.48" (1 to 12 mm) wide
Flowers: 5 bluish-white tube-shaped partly united petals borne in terminal clusters; 5 parted sepals; 5 stamens; bisexual; corolla tube is 0.28" to 0.48" (7 to 12 mm) long
Pollinators: other genera in this family are pollinated by moths and butterflies
Fruits: pair of follicles
Blooms in Arches National Park: April, May
Habitat in Arches National Park: desert shrub communities
Location seen: Cache Valley in Arches National Park; outside Arches National Park on Corona Arch trail
Other: The genus name, "Amsonia", honors Dr. Charles Amson, an 18th century American physician from Virginia. The species name, "tomentosa", means "covered with fine, matted hairs" referring to the wool-like covering created by many small, matted, intermingled hairs.
Most plants in this family have milky sap and many are poisonous.
Did You Know?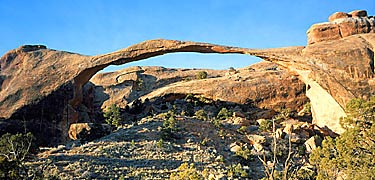 Landscape Arch is the longest arch in Arches National Park, measuring 306 feet from base to base. In 1991, a massive slab of rock fell from its underside, resulting in an even thinner ribbon of rock.