Curriculum Materials
These lessons are designed for grades one through six in a desert landscape, but many could be adapted to other grades and other ecosystems. Click here for tips on successfully managing an outdoor classroom.
Browse Our Curriculum Materials
Results
Showing results 1-10 of 18
Did You Know?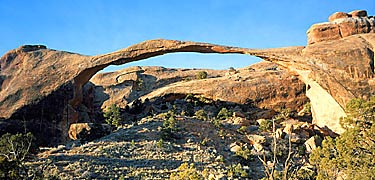 Landscape Arch is the longest arch in Arches National Park, measuring 306 feet from base to base. In 1991, a massive slab of rock fell from its underside, resulting in an even thinner ribbon of rock.