The McLean House front porch is closed, but the house remains open.

The front porch of the McLean House is being renovated requiring entry into the house through the back door.
Army of the James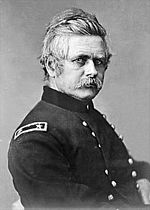 Major General Edward O. C. Ord
Headquarters Guard
3rd Pennsylvania Heavy Artillery, Companies D and I
Engineers
1st New York Engineers
Pontoniers
3rd Massachusetts Heavy Artillery, Company I
Unattached Cavalry
4th Massachusetts, Companies I, L and M
5th Massachusetts Cavalry (Colored)
7th New York Cavalry (1st Mounted Rifles)
Did You Know?

Major James Field, of A.P. Hill's staff, surrendered at Appomattox. Field served in the Mexican War, helped to write the 1st Constitution for the State of California and ran for Vice President of the United States in 1892. (Field's Confederate frock coat is at Appomattox Court House NHP)