The Constitution President
The Andrew Johnson National Historic Site and National Cemetery interprets the life and legacy of the 17th President. Andrew Johnson's presidency, 1865-1869, illustrates the United States Constitution at work following President Lincoln's assassination and during attempts to reunify a nation torn by civil war. His presidency shaped the future of the United States and his influences continue today.
Read More
Did You Know?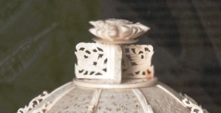 Queen Emma of the Sandwich Islands (now known as the Hawaiian Islands) came to visit President Andrew Johnson in Washington. It was the first time a Queen had visited the White House. She gave this ivory basket to President and Mrs. Johnson. It is now on display in the Andrew Johnson NHS museum.