Qualifications for Burial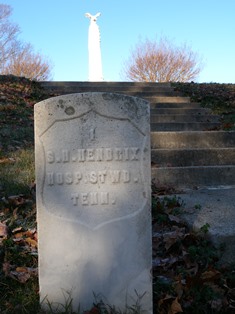 An NPS Photo
Since 1909, qualified veterans of the United States Armed Forces have joined Andrew Johnson in this historic National Cemetery. More than a century later, it's still a resting place for veterans. The site does
estimate that the cemetery will close for new burials by the end 2017. Until that time, burials for veterans and their spouses and minor dependents will continue to be scheduled at the time of death.
For future planning, be aware that the next closest National Cemetery is Mountain Home in
Johnson City, Tennessee.

BURIAL ELIGIBILITY
Burial in the Andrew Johnson National Cemetery is open to all members of the Armed Forces and veterans having met minimum active service duty requirements and having been discharged under conditions other than dishonorable. Their spouse, widow or widower, minor children, and under certain conditions, unmarried adult children, are also eligible for burial. Eligible spouses may be buried, even if they predecease the veteran.
Members of the reserve components of the Armed Forces who die while on active duty or while performing training duty, or who have 20 years of service in reserve components of the Armed Forces creditable for retired pay, may also be eligible for burial.
For more information call 423.639.3711