Event Results
Sorry, but there are no events that match your search criteria.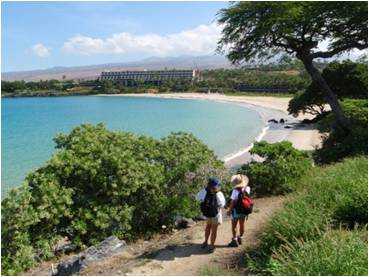 National Trails Day

Keep Puako Beautiful and Hawaii Wildlife Fund will team up with Keep Hawaii Beautiful, Recycle Hawaii, Hawaii State Parks and Ala Kahakai National Historic Trail to host a shoreline hiking clean up from Kanekanaka Pt. to Hapuna Pt. Volunteers and vehicles are needed to pick up litter on the trail and connector roads, to document findings, load into transport vehicles and dispose of at the PuakoTransfer Station.
Date: First Saturday in June
Time: 7:00 AM - 12 noon
Meet: Beach 67 -To access Kanekanaka Point for orientation: Drive down Puako Beach Dr., turn right and on to Old Puako Rd and go north to Beach 67. Turn left at the "parking sign" and drive makai 1/8 mile to meet for orientation.
Wear proper shoes and attire for walking on dirt trails. Sun protection & sunscreen recommended. Bring heavy work gloves, refillable water bottle, & buckets for recyclables.We provide some lite work gloves, litter pickers, bags, water jug & cups. First aid kit & lifeguard on site. Instructions on safety and potential hazards for clean-up will be presented at check in station.

For details or to sign up: email kpb@hawaii.rr.com or call 769-7629
Please call the park at (808) 328-2326 ext. 1702 to confirm the events listed on this Schedule of Events Page. Thank you.