Visitor Center Hours

The visitor center at Agate Fossil Beds will be open the following hours: Memorial Day till Labor Day Open Daily 9 am - 5 pm; Labor Day till Memorial Day Open Daily 8 am - 4 pm. Closed Thanksgiving, Christmas, and New Years Day.
Outdoor Activities
Two trails lead to the north and south rim of the valley and to the sites where fossils have been found. The Daemonelix Trail has exhibits encasing actual fossils, while the Fossil Hills Trail visits the historic early 1900's quarries. Trail guides are available for both trails.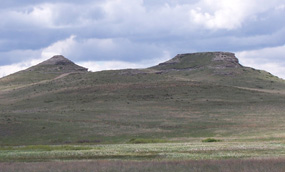 Fossil Hills Trail
This 2.7 mile trail begins at the visitor center, crosses the Niobrara River wetlands (just a stream in these parts) and loops around University and Carnegie Hills, where the great bonebed of Agate was discovered in 1904. Signs point out certain historic and geologic features and identify plants along the way. An unpaved one mile side trail leads to the restored (outside only) 1910 homestead of Harold Cook, which was later used by the scientists as their "Bone Cabin" while working the fossil quarries.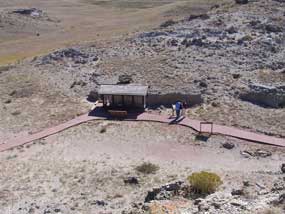 Daemonelix Trail
This one mile trail travels through time, including ancient sand dunes and fossil grassland soils, as well as the curious spiral burrows (Devil's Corkscrews) of dry land beavers. Their now petrified homes formed colonies much like current prairie dogs and attracted early scientists to this region. The view from the top overlooking the historic Agate Springs Ranch and surrounding tableland is superb and reflects the vast openness of the land east of the Rocky Mountains.


Did You Know?

Red Cloud, a chief of the Oglala Lakota Sioux, was one of the most photographed American Indians.  More than 128 photos were taken of him during his lifetime.  An oil painting of Red Cloud painted at the Agate Springs Ranch hangs in the "Den" exhibit in the James H. Cook Gallery. More...