Indoor Activities
The Visitor Center/Museum features an information desk, theater with 12 minute movie, two exhibit galleries, and a bookstore, all overlooking the Niobrara River and its distinctive bluffs.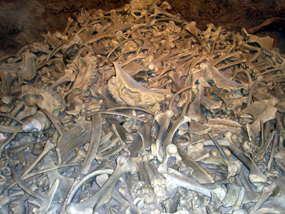 Photo by Jonathan S. Garcia
After the Dinosaurs
A feeling of "then and now" radiates from a life-size diorama of the mounted skeletons (replicas) of the more unusual fossil animals discovered at Agate. The diorama occupies the entire south side of the main gallery in front of three large windows that look out on the Fossil Hills where the excavations went on the the early 1900's. Other displays focus on other real or replica fossils found in the area and invite interaction on the part of the viewer to think like a scientist. Featured are such beasts as the "terrible pig" Dinohyus, the long necked, claw-toed Moropus, snarling beardogs, dwarf rhinos, and the spiral digging paleocaster.
Shown in the theater is the park's twelve minute movie, "The Fossil Hills".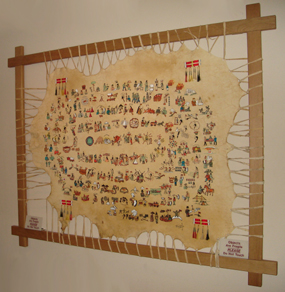 Photo by Jonathan S. Garcia
Two Cultures, One Land
Also on display is the evidence of a deep friendship between rancher James Cook and Red Cloud of the Lakota Sioux and members of other High Plains tribes.
Indians often visited him at his ranch and gave him gifts from the early reservation years, including fancy beaded or quilled moccasins, Indian games, a painted hide of the Custer Battle, guns, decorated clubs, a dog travois, and much more. Black and white photos of Cook's visitors, a sound track by traditional singer Bill Horn Cloud, and a colorful, contemporary "wintercount" or historical calendar, create a mood for this special collection not to be missed by admirers of indigenous culture.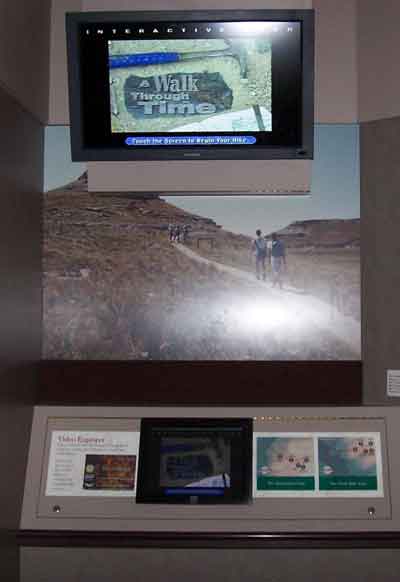 Interactive Hiker
If the weather does not cooperate or there is not time to walk the trails or you would like an idea of what there is on the trails, the interactive hiker is for you. The touch screen monitor allows you to learn about the trails and extra information can be found here also.

Did You Know?

The Hollywood film "Ghost Town" was renamed in its Italian version "Red Cloud's War Cry" -- Il Grido di Guerra di Nuvola Rossa. One of Red Cloud's shirts is on display at the Agate Fossil Beds Visitor Center. More...