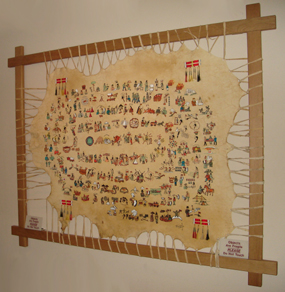 Photograph by Jonathan S. Garcia
Two Cultures, One Land
Displayed in the visitor center and museum as well is one of America's most unique collections of Lakota cultural artifacts from the late 1800s and early 1900s. The friendship that developed and flourished between James H. Cook, owner of the Agate Springs Ranch, and Red Cloud, chief of the Oglala Lakota, is as rare as the fossils discovered on land once home to the herds of bison Euroamericans hunted nearly to extinction.
After Cook purchased the 04 Ranch, later called the Agate Springs Ranch, from his father-in-law in 1887, Red Cloud and his family, band, and friends from allied tribes often traveled overland by wagon from the Pine Ridge Reservation to visited James and his family, including wife Kate and sons Harold and John. At the ranch, James provided his visitors with one or more cows; they in turn presented him with gifts such as horses; beautifully beaded or quilled moccasins; Catlinite pipes; parfleches; decorated war and ceremonial clubs; painted hides, including one of the Battle of Greasy Grass (Little Big Horn); a dog travois; leather clothing; and much, much more. Black and white photographs of the Cooks' visitors; a sound track performed by traditional Lakota singer William Horncloud; and a colorful, contemporary Winter Count, the historical native calendars Lakota call
waniyetu wowapi
, add to this rare and treasured collection.