Park Loop Road opening

May 17, 2013: The entire Park Loop Road and all other paved roads in the park open today. All dirt roads in the park, including the Seal Cove Road, will open on June 3.
Trail closures

April 22, 2013: The Precipice, Orange and Black, Valley Cove, and Jordan Cliffs Trails are closed until further notice because of nesting peregrine falcons. All other trails in the park are open, whether accessible from the park or from state roads.
Hulls Cove Visitor Center

May 17, 2013: The visitor center will open on May 19 and will be open 9-5 every day. All park passes are available there. There is an accessible entrance at the back of the building for those who have trouble climbing stairs.
Directions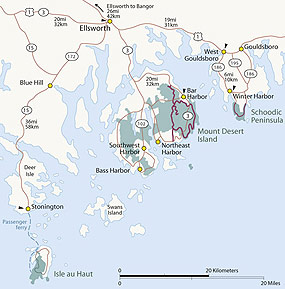 Maps
For travel and local area maps, click here.


By Car
From Boston take I-95 north to Augusta, Maine, then Route 3 east to Ellsworth, and on to Mount Desert Island. For an alternate route, continue on I-95 north to Bangor, Maine, then take Route 1A east to Ellsworth. In Ellsworth, take Route 3 to Mount Desert Island.

By Plane
Direct flights from Boston's Logan Airport land at the Hancock County Airport, 10 miles from Acadia National Park. National airlines serve the Bangor International Airport, about one hour from the park. Car rentals are available at both airports.

By Public Transportation
Bus service from Boston to Bangor is available year-round via Concord Coach Lines and Greyhound.


Tip
During the summer months the Park Loop Road and parking lots at carriage road entrances can be quite crowded. Parking is permitted only in designated (posted) areas, parking lots, and established roadside pullouts. To avoid the crowds and parking issues, you can ride fare-free Island Explorer buses to many park destinations.


Did You Know?

Acadia National Park contains more than 120 miles of historic hiking trails. Many of these trails were established by local village improvement societies in the late 1800s and early 1900s. Today many of the historic features, such as stonework, are still visible.