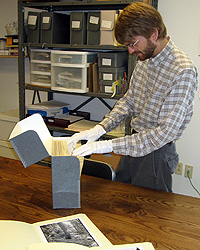 NPS
Containing detailed information about the history of Mount Desert Island the Cranberry Isles; this center houses six collections, featuring items from as early as 1596, and are available to the public. The collections contain photographs; town, genealogical, and vessel and trade records; correspondence; books, maps, and pamphlets; artwork; newspapers; and more.
The center is open to researchers by appointment only.
Access to the collection for scientific research, genealogical study, or development of a publication is permitted. Prospective researchers should contact the Curator for an appointment.
To arrange an appointment to conduct research contact the park curator at:
Acadia National Park
P.O. Box 177
Bar Harbor, Maine 04609
207-288-8729
e-mail
Archival documents in good condition (determined by the museum technician) may be photocopied for a small fee. Photographs (in good condition) may be reproduced for a fee (contact the curator for current prices). Artifacts may be loaned to other historic institutions for exhibitions.