Trail Closures: Peregrine Falcon Nesting

Precipice Cliff, Valley Cove, and Jordan Cliff areas are closed to all public entry until further notice for peregrine falcon nesting season. More »
Cultural Connections programs rescheduled for 7/16/2014 due to weather

Ash Log Pounding demo will take place today 11 am-3 pm at the Abbe Museum downtown (26 Mount Desert St, Bar Harbor). The Burnurwurbskek Singers have been rescheduled to perform on Cadillac Summit next Wed, July 23 at 11 am.
Acadia: Your Outdoor Classroom

Lakes, forests, mountains, tidepools and more wonders are waiting at Acadia National Park for you and your students to explore. There are many ways to experience parks as classrooms. Take advantage of the park's professional development opportunities.

Contact the Education Office at 207-288-8812 or by e-mail.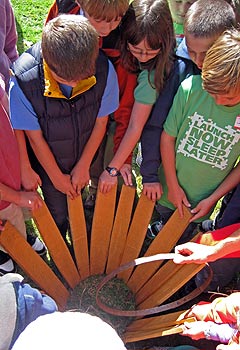 Features
Field Trips

Learn what rangers do, explore intertidal zones, dive into geology, and more.

Read More

Teacher-Ranger-Teachers Program

Have you ever dreamed of being a park ranger and working in some of the most beautiful places in the world? You can make your dream come true!

Read More

Teacher Workshops

Animals, plants, history, and more! Come learn and earn CEUs.

Read More