Accessibility for Visitors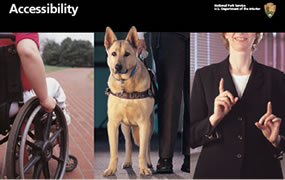 NPS Image
The National Park Service is committed to making all practicable efforts to make NPS facilities, programs, services, employment, and meaningful work opportunities accessible and usable by all people, including those with disabilities. This policy reflects the commitment to provide access to the widest cross section of the public and to ensure compliance with the Architectural Barriers Act of 1968, the Rehabilitation Act of 1973, the Equal Employment Opportunity Act of 1972, and the Americans with Disabilities Act of 1990. The NPS will also comply with section 507 of the Americans with Disabilities Act (42 USC 12207), which relates specifically to the operation and management of federal wilderness areas. The accessibility of commercial services within national parks are also covered under all applicable federal, state and local laws.
A primary principle of accessibility is that, to the highest degree practicable, people with disabilities are able to participate in the same programs, activities and employment opportunities available to everyone else. In choosing among methods of providing accessibility, higher priority will be given to methods that offer programs and activities in the most integrated setting appropriate. Special, separate, or alternative facilities, programs, or services will be provided only when existing ones cannot reasonably be made accessible. The determination of what is practicable will be made only after careful consultation with persons with disabilities or their representatives. Any decision that would result in less than equal opportunity is subject to the filing of a disability rights complaint as explained on this website.
If anyone has a complaint, it may be filed by sending a letter to the National Park Service Equal Opportunity Program Office.