Meet the Artists
Joe Weishaar - Memorial Designer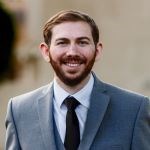 Joe Weishaar is a registered architect practicing in Washington, DC. A relative newcomer to the architecture profession, Joe is quickly expanding his horizons with nationally and internationally recognized work. In 2011 he placed second individually in the Lyceum Fellowship Competition sponsored by the Lyceum Fellowship of Boston. In 2010 he was a part of the team that completed the Historic American Building Survey/Historic American Engineering Record documentation of the Fay and Gus Jones Residence, which garnered the Peterson Prize for historic documentation from the Library of Congress.Joe has traveled extensively to participate in design studios taught in Mexico City at the Casa Barragan, and to Europe under the auspices of the Lyceum Traveling Fellowship. In 2012 he used this opportunity to take up residence in Rome in order to study the ancient housing typologies of Pompeii.In 2016, Joe was named as one of Crain's Chicago Business' Emerging Voices as part of their 20 in their 20's series and has been profiled in an array of media venues for his continued work on the World War I Memorial. Joe is an active oil and oil pastel painter and has participated in multiple gallery exhibitions in Chicago.Joe Weishaar has experience designing memorials, mixed-use developments, commercial buildouts, and single family residences.
Sabin Howard grew up in New York City and in Torino, Italy. He studied art at the Philadelphia College of Art and then earned his MFA from the New York Academy of Art. For twenty years, he taught at the graduate and undergraduate levels. He has been elected to the board of the National Sculpture Society. He has received numerous commissions and has showed his work at more than fifty solo and group shows.After 45,000 hours of working from life models in the studio, he is the creator of three heroic scale pieces, HERMES, APHRODITE, and APOLLO, as well as many smaller pieces.His works are owned by museums and private collectors all over the world, and they have been favorably reviewed by
The New York Times
,
The Washington Post
,
The Epoch Times
,
American Artist
,
Fine Arts Connoisseur
,
American Arts Collector
, and
The New Criterion,
as well as many other journals internationally. He is an accomplished public speaker and is the subject of several television profiles. He is the author of the book
THE ART OF LIFE
with his wife author Traci L. Slatton.
DAVID RUBIN Land Collective - Landscape Architect
DAVID RUBIN Land Collective is a landscape architecture, urban design, and planning studio committed to practicing with an emphasis on socially-purposeful design strategies. The studio is dedicated to crafting landscapes that create positive change through cross-disciplinary collaborations and the synthesis of art, technology and the social sciences to create human-centered works. It is an appreciation for empathy that drives the studio's design process.
Last updated: April 16, 2021