Welcome to the World War I Memorial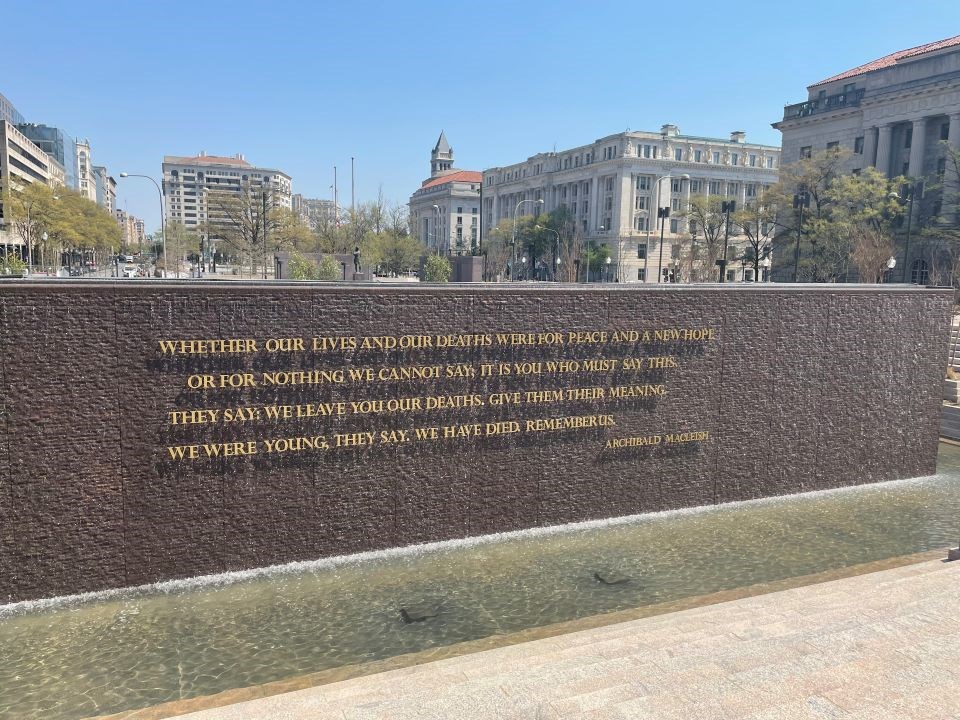 The centennial of World War I provided the opportunity to give long-overdue recognition to America's 4.7 million sons and daughters who served in the War to End All Wars. The site eventually chosen for the new memorial was Pershing Park, originally the home of the American Expeditionary Forces (AEF) Memorial, dedicated in 1981 to honor the American forces who served in Europe during the war and named for their commander, General John J. Pershing. In 2020 the memorial was expanded to honor not just the AEF but all Americans who served, including U.S. Navy sailors, Coast Guardsmen, men and women in uniform who did not serve in Europe and those who served in civilian capacities.
Memorial architect Joe Weishaar retained the major elements of the AEF Memorial, which included a statue of General Pershing and a 10-foot high wall containing two battle maps with appropriate inscriptions, were retained as part of the World War I Memorial, and added several new features.
The memorial's central feature is Sabin Howard's sculpture
A Soldier's Journey
, based on the myth of "the hero's journey" and representing the American experience of World War I. On the reverse of the sculpture is the Peace Fountain, a cascade of water flowing over lines from the poem "The Young Dead Soldiers." The poem, a call to remember those killed in war and give meaning to their sacrifice, is by Archibald MacLeish, an artillery captain in the war who later won three Pulitzer Prizes and served as the Librarian of Congress.
The Belvedere is the conceptual center of the memorial and provides a commanding view of the memorials elements: the John J. Pershing Memorial to the left, "A Soldier's Journey" directly ahead, and the flagstaff with a quote from President Woodrow Wilson and others to the right. Interpretive panels along the Belvedere wall describe American accomplishments in the war, the roles played by Americans of all backgrounds, and the legacy of the war. The center medallion depicts the figure of winged Victory portrayed on the medals awarded to the AEF and other Allied forces. Inscribed on the front of the wall are the names of the major campaigns for which Army and Navy units were awarded battle honors.
The final element o
f the memorial is a pair of quotations inscribed on planter boxes farther to you right. One, from Willa Cather's 1922 novel One of Ours, is a testament to the achievements and sacrifices of American armed forces in the war. The other, from Alta May Andrews of the Army Nurse Corps, speaks of her own pride in having a chance to serve, and more broadly for the contributions of all Americans – including women, African Americans, Native Americans, and immigrants – to the American war effort.
Last updated: May 10, 2021