Eating & Sleeping
Food & Drink
The closest restaurants to Wupatki are either north on Hwy 89 in Cameron or approximately one hour away in Flagstaff. The Western National Parks Association shop at the visitor center carries a small selection of snacks.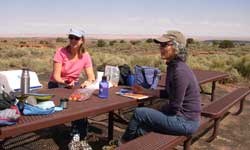 Picnic Areas
Inside the monument, there are picnic tables next to the visitor center, and the Lomaki Pueblo parking area.
There are also picnic tables that provide some shade at the Painted Desert Overlook between Wupatki and Sunset Crater Volcano and at the Doney Mountain parking area.
Lodging
The nearest hotels are either north on Hwy 89 in the town of Cameron (located within the Navajo Nation) or south on Hwy 89 in Flagstaff. The National Park Service is a publicly funded agency and cannot recommend one business over another.
Camping
Camping is not permitted within Wupatki National Monument.

The Coconino National Forest offers numerous camping opportunities near Wupatki and Sunset Crater National Monuments.
Contact the Coconino National Forest directly for more details.
Last updated: August 1, 2020