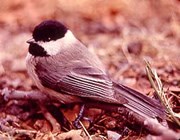 If you continue on the road from Wupatki to Sunset Crater Volcano, you ascend from the grassland and cold desert shrub zones, through the pinyon/juniper woodland, to ponderosa pine forest. All in a distance of only 18 miles. With the change in landscape come changes in the kinds and numbers of birds.
Birds must have had symbolic and religious significance for former occupants of the area. Bird bones recovered from excavations include those of thick-billed parrots and scarlet macaws, traded north from the tropics of Mexico. At Wupatki Pueblo, at least eleven articulated parrot and macaw burials were found. Birds were also the subject of rock art and ceramic designs. Birds and feathers are important in Pueblo ceremonies today.
Some species of birds are seen frequently in one park and rarely in the other. The Steller's jay can be seen at Sunset Crater Volcano National Monument. Its blue body and black crest distinguish it from all other jays. The call of the Steller's jay is a harsh "caw" and it can also imitate the call of other birds. At Wupatki you may find the greater roadrunner scurrying along the desert floor. It is a large ground- dwelling cuckoo streaked with brown and white, it speeds across the desert on long, strong legs. The long white-edged tail and long, heavy beak are its outstanding features.
Bird populations at Wupatki and Sunset Crater National Monuments also change with the season. In the summer you may see the western bluebird and mountain bluebird at higher elevations at Sunset Crater Volcano, while Wupatki is frequented by the western kingbird and black-throated sparrow. Fall is full of surprises as birds migrate from higher elevations to lower ones. Our park is unique in that we have such a dramatic change in elevations, the visitor is likely to see the same species at both areas, at different times of the year. The raven is often heard with its distinctive "caw," its dark feathered body playfully soaring in the sky. The drumming of the red- shafted flicker is often heard. This jay-sized woodpecker uses its strong bill to search out wood-boring insects. Look for the dark silhouette of a golden eagle against the sky, and listen for the musical descending notes of the canyon wren.
Birds of Wupatki
This list is from The National Park Service Biodiversity Database 2014. These species are confirmed to be present at Wupatki National Monument. Wetland/Pond birds are not included.
Accipitriformes/Accipitridae

Accipiter cooperii Cooper's Hawk

Rare

Accipiter gentilis Northern Goshawk

Occasional

Accipiter striatus Sharp-shinned Hawk

Rare

Aquila chrysaetos Golden Eagle

Uncommon

Buteo jamaicensis Red-tailed Hawk

Abundant

Buteo lagopus Rough-legged Hawk

Rare

Buteo regalis Ferruginous Hawk

Occasional

Buteo swainsonii Swainson's Hawk

Rare

Circus cyaneus Northern Harrier

Uncommon

Halietus leucocephalus Bald Eagle

Rare

Accipitriformes/Cathartidae

Cathartes aura Turkey Vulture

Rare

Apodiformes/Apodidae

Aeronautes saxatalis White-throated Swift

Rare

Apodiformes/Trochilidae

Archilochus alexandri Black-chinned Hummingbird

Rare

Calypte costae Costa's Hummingbird

Occasional

Selasphorus platycercus Broad-tailed Hummingbird

Abundant

Selasphorus rufus Rufous Hummingbird

Uncommon

Stellula calliope Calliope Hummingbird

Occasional

Caprimulgiformes/Caprimulgidae

Chordeiles minor Common Nighthawk

Abundant

Phalaenoptilus nuttallii Common Poorwill

Common

Columbiformes/Columbidae

Zenaida macroura Mourning Dove

Abundant

Cuculiformes/Cuculidae

Geococcyx californianus Greater Roadrunner

Uncommon

Falconiformes/Falconidae

Falco columbarius Merlin

Occasional

Falco mexicanus Prairie Falcon

Rare

Falco peregrinus Peregrine Falcon

Unknown

Falco sparverius American Kestrel

Common

Passeriformes/Aegithalidae

Psaltriparus minimus Bushtit

Uncommon

Passeriformes/Alaudidae

Eremophila alpestris Horned Lark

Abundant

Passeriformes/Bombycillidae

Bombycilla cedrorum Cedar Waxwing

Occasional

Bombycilla garrulus Bohemian Waxwing

Rare

Passeriformes/Cardinalidae

Pheucticus ludovicianus Rose-breasted Grosbeak

Occasional

Pheucticus melanocephalus Black-headed Grosbeak

Occasional

Passeriformes/Certhiidae

Certhia americana Brown Creeper

Occasional

Passeriformes/Corvidae

Aphelocoma californica Western Scrub-Jay

Rare

Corvus brachyrhyncho American Crow

Rare

Corvus corax Common Raven

Abundant

Gymnorhinus cyanocephalus Pinyon Jay

Uncommon

Nucifraga columbiana Clark's Nutcracker

Occasional

Passeriformes/Emberizidae

Amphispiza belli Sage Sparrow

Uncommon

Amphispiza bilineata Black-throated Sparrow

Abundant

Calcarius ornatus Chestnut-collared Longspur

Rare

Chondestes grammacus Lark Sparrow

Rare

Junco hyemalis Dark-eyed Junco

Abundant

Melospiza melodia Song Sparrow

Uncommon

Passerculus sandwichensis Savannah Sparrow

Rare

Pipilo chlorurus Green-tailed Towhee

Uncommon

Pipilo maculatus Spotted Towhee

Uncommon

Pooecetes gramineus Vesper Sparrow

Rare

Spizella breweri Brewer's Sparrow

Uncommon

Spizella passerina Chipping Sparrow

Rare

Zonotrichia albicollis White-throated Sparrow

Uncommon

Zonotrichia leucophrys White-crowned Sparrow

Uncommon

Passeriformes/Fringillidae

Carduelis psaltria Lesser Goldfinch

Rare

Carduelis tristis American Goldfinch

Occasional

Carpodacus cassinii Cassin's Finch

Occasional

Carpoda mexicanus House Finch

Abundant

Coccothraustes vespertinus Evening Grosbeak

Occasional

Passeriformes/Hirundinidae

Hirundo rustica Barn Swallow

Occasional

Riparia riparia Bank Swallow

Occasional

Tachycineta bicolor Tree Swallow

Unknown

Tachycineta thalassina Violet-green Swallow

Rare

Passeriformes/Icteridae

Agelaius phoeniceus Red-winged Blackbird

Rare

Euphagus cyanocephalus Brewer's Blackbird

Uncommon

Icterus bullockii Bullock's Oriole

Common

Icterus parisorum Scott's Oriole

Uncommon

Quiscalus mexicanus Great-tailed Grackle

Occasional

Molothrus ater Brown-headed Cowbird

Rare

Sturnella magna Eastern Meadowlark

Occasional

Sturnella neglecta Western Meadowlark

Abundant

Xanthocephalus xanthocepalus Yellow-headed Blackbird

Rare

Passeriformes/Laniidae

Lanius excubitor Northern Shrike

Uncommon

Lanius ludovicianus Loggerhead Shrike

Uncommon

Passeriformes/Mimidae

Dumatella carolinensis Grey Catbird

Unknown

Mimus polyglottos Northern Mockingbird

Abundant

Oreoscoptes montanus Sage Thrasher

Uncommon

Toxostoma bendirei Bendire's Thrasher

Rare

Toxostoma crissale Crissal Thrasher

Occasional

Passeriformes/Paridae

Baeolophus ridgwayi Juniper Titmouse

Uncommon

Poecile gambeli Mountain Chickadee

Rare

Passeriform/Parulidae

Dendroica coronata Yellow-rumped Warbler

Abundant

Dendroica nigrescens Black-throated Gray Warbler

Rare

Dendroica petechia Yellow Warbler

Rare

Geothlypis trichas Yellowthroat

Rare

Icteria virens Yellow-breasted Chat

Occasional

Oporornis tolmiei MacGillivray's Warbler

Uncommon

Vermivora celata Orange-crowned Warbler

Rare

Vermivora virginiae Virginia's Warbler

Uncommon

Wilsonia pusilla Wilson's Warbler

Uncommon

Passeriformes/Polioptilidae

Polioptila caerulea Blue-gray Gnatcatcher

Rare

Passeriformes/Ptilogonatidae

Phainopepla nitens Phainopepla

Occasional

Passeriformes/Regulidae

Regulus calendula Ruby-crowned Kinglet

Common

Passeriformes/Sittidae

Sitta canadensis Red-breasted Nuthatch

Rare

Sitta carolinensis White-breasted Nuthatch

Abundant

Sitta pygmaea Pygmy Nuthatch

Common

Passeriformes/Thraupidae

Piranga flava Hepatic Tanager

Occasional

Piranga ludoviciana Western Tanager

Rare

Piranga olivacea Scarlet Tanager

Unknown

Passeriformes/Troglodytidae

Catherpes mexicanus Canyon Wren

Common

Salpinctes obsoletus Rock Wren

Common

Thryomanes bewickii Bewick's Wren

Rare

Troglodytes aedon House Wren

Rare

Passeriformes/Turdidae

Myadestes townsendi Townsend's Solitaire

Abundant

Sialia currucoides Mountain Bluebird

Abundant

Sialia mexicana Western Bluebird

Rare

Turdus migratorius American Robin


Uncommon

Passeriformes/Tyrannidae

Contopus sordidulus Western Wood Peewee

Occasional

Empidonax traillii Willow Flycatcher

Occasional

Empidonax wrightii Gray Flycatcher

Rare

Myiarchus cinerascens Ash-throated Flycatcher

Rare

Sayornis nigricans Black Phoebe

Occasional

Sayornis saya Say's Phoebe

Abundant

Tyrannus verticalis Western Kingbird

Uncommon

Tyrannus vociferans Cassin's Kingbird

Occasional

Passeriformes/Vireonidae

Vireo vicinior Gray Vireo

Occasional

Piciformes/Picidae

Colaptes auratus Northern Flicker

Common

Melanerpes lewis Lewis's Woodpecker

Occasional

Picoides villosus Hairy Woodpecker

Uncommon

Sphyrapicus nuchalis Red-naped Sapsucker

Uncommon

Sphyrapicus ruber Red-breasted Sapsucker

Rare

Sphyrapicus thyroideus Williamson's Sapsucker

Rare

Strigiformes/Strigidae

Aegolius acadicus Northern Saw-whet Owl

Rare

Asio flammeus Short-eared Owl

Rare

Asio otus Long-eared Owl

Rare

Athene cunicularia Burrowing Owl

Rare

Bubo virginanus Great Horned Owl

Rare

Megascops kennecottii Western Screech Owl

Rare