Winter Activities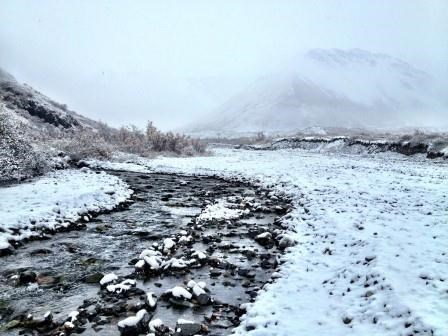 Wrangell-St. Elias is open year-round. However, all the visitor centers and ranger stations are closed during the winter months. The park is a beautiful place during the winter - pristine, quiet, and cold. If you choose to visit the park during the winter, you will be rewarded with spectacular scenery but you must be self-sufficient and prepared.
Snowmobiles/Snowmachines
Did you know that in Alaska, we call snowmobiles "snowmachines"? Visitors may use snowmachines anywhere on public land inside Wrangell-St. Elias, as long as there is adequate snow cover and as long as it is not determined to be detrimental to the resource values of the unit or area. (Please see section 1110 (a) of ANILCA for more information about this regulation.) A permit is not required for snowmachines.
Hiking, Cross Country Skiing, and Snow Shoeing
You may hike, cross country ski, or use snow shoes on any of the trails in the park, throughout the winter. We encourage you to stay on park trails, as trapping is legal and popular in the park. If you leave a trail, please be aware that you may cross trap lines.
Visiting Kennecott
There are no services available in McCarthy or Kennecott during the winter. The McCarthy Road is open and maintained year-round by the State of Alaska, but if you choose to drive this road during the winter you should be prepared for extremely poor road conditions including snow, ice, slush, deep ruts, and mud. Once you reach the end of the McCarthy Road, it is not possible to drive to Kennecott, which is five miles further. During the summer there are shuttles, but during the winter there are no shuttles running between the end of the McCarthy Road and Kennecott. This means that the only way to Kennecott is by foot, cross-country skiing, snowshowing, or snowmachine. There are no outfitters open in the winter that will rent this gear to you.

Last updated: April 14, 2015