Shuttle Services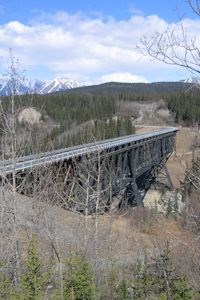 Kennecott Shuttle Services
There are 3 shuttle companies providing services between the pedestrian footbridge, McCarthy and Kennecott, with multiple stops in between. Each company has its own schedule and pricing and run approximately every hour to 1/2 hour. Shuttle company contact information can be found on the sign at the footbridge, at the end of the McCarthy Road.
Anchorage to Glennallen Shuttle Services

Interior Alaska Bus Line
(800) 770-6652
This company runs a bus from Anchorage to Tok, with multiple stops along the way, including Glennallen.

Soaring Eagle Transit
(907) 822-4545
This shuttle service transports people from Anchorage to Glennallen and Valdez.

These listings are provided as a service to our visitors and imply no specific endorsement by the National Park Service or Wrangell-St. Elias National Park & Preserve.
Last updated: June 24, 2021