Sea Kayaking in Icy Bay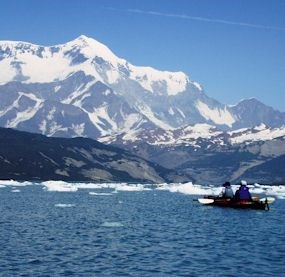 Since 1900, four huge tidewater glaciers have retreated to form Icy Bay on the coast of Wrangell-St. Elias National Park and Preserve. The protected, blue waters surrounded by spectacular glacial scenery and an abundance of wildlife are ideal for sea kayaking.
Most kayakers access Icy Bay by chartering a small bush plane to drop them off at Kageet Point on the eastern edge of Icy Bay or Pt. Riou, located on Chugach Alaska Native Corporation land southeast of Icy Bay. Before flying into Pt. Riou, visitors should request permission by writing Chugach Alaska Corporation, 3800 Centerpoint Drive, Suite 1200, Anchorage, Alaska 99503.
Access to Icy Bay is restricted to small bush planes only, so many parties use collapsible kayaks. There are air taxis in Yakutat who are approved to operate in the park, which you can find by visiting kayaking services. These air taxis fly planes that are capable of landing on the bush strip at Kageet Point, which is the most common point of access for Icy Bay kayakers. It's a raised beach strip, and makes for a lovely initial camping spot while you set up your gear.
There are lodges in and around Yakutat that offer lodging and Alaska cuisine as well as guided kayaking, hiking, beach combing, wildlife photography, and fly fishing.

There are many beach camping opportunities throughout the bay. There are no officially designated camp sites. We ask that you pick areas that seem suitable to your needs, spread your use away from areas that show signs of use, and leave no trace of your camping when you depart.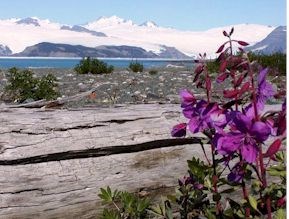 There are many bears throughout the area, but those using Icy Bay before you have been diligent in practicing proper food storage techniques and there have been no adverse human-bear interactions in recent years. Exercise proper caution as you would in bear country throughout Alaska.
A list of licensed guide companies that lead trips into Icy Bay is available. Call the Yakutat District Office for more details. For information on Russell Fjord, you can contact the U.S. Forest Service in Yakutat at 907-784-3359.


Last updated: November 19, 2019