Mountaineering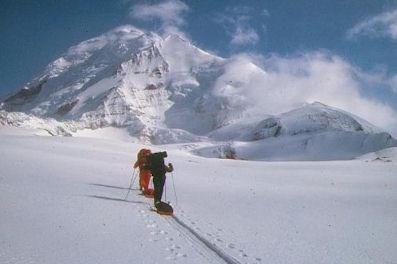 Wrangell-St. Elias and its Canadian neighbor, Kluane National Park, were set aside to preserve the foothills, glaciers and peaks of the Wrangell, Chugach, and St. Elias mountain ranges. This area includes many of the highest mountains and largest ice fields in North America. Superb mountaineering experiences found nowhere else in the world exist here.
The mountains in Alaska are not like mountains you might experience in the Lower 48. Anything above 10,000 feet is considered to be an extensive mountaineering expedition and requires appropriate equipment and experience.
The severe changes in elevation, avalanches, ice, remoteness, and extreme winds and weather of this region require extensive knowledge of wilderness and mountaineering survival skills. Access is usually by chartered aircraft. Climbers must be fully prepared and self sufficient. Rescue and evacuation opportunities are slim and time consuming.
The best time of year for climbing activity is April through June. The most popular peaks for expeditions are Sanford, Blackburn, Bona, and St. Elias, because of their elevations over 16,000 feet. Many other peaks are equally challenging. Some have never been climbed. It is recommended that all climbers fill out a "Trip Itinerary" and leave it at the Wrangell-St. Elias Visitor Center, or one of the ranger stations in Slana, Chitina or Yakutat. You can also join a guided trip with mountaineering guides who are licensed to operate in the park.
NOTE:
All climbing expeditions that enter Kluane National Park Reserve, Canada, must secure a permit in advance from the Superintendent, Kluane National Park Reserve, P.O. Box 5495, Haines Junction, YT, Canada Y0B 1L0. Phone (867) 634-7208.
---
A Few Route Descriptions:


Last updated: June 7, 2018