Mountaineering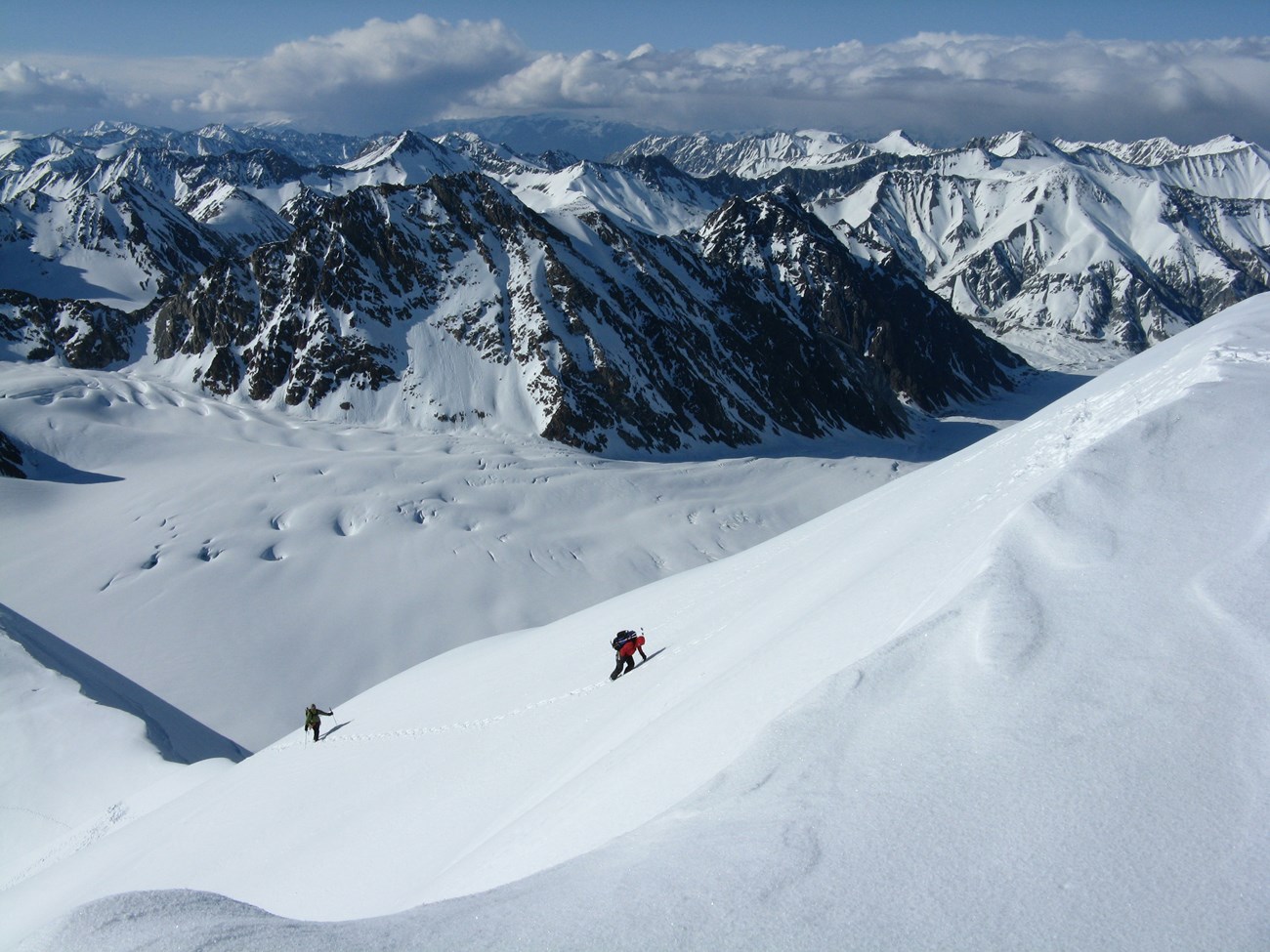 Wrangell-St. Elias contains 7 of the 20 highest peaks in North America. The mountains here however, are unlike mountains you might experience outside of Alaska. Any peaks higher than 10,000 feet are glaciated, and typically require long, technical expeditions to summit.

Consider hiring a mountaineering guide unless you have extensive mountaineering experience.
For more information about mountaineering in the park, email a backcountry ranger at wrst_backcountry@nps.gov.
Clean Climbing
Every climber has a responsibility to help keep the glacier environment clean, both for the benefit of your own climbing experience and for future generations. Proper disposal of trash, fuel cans, and human waste is the right thing to do, and it is required. Proper disposal includes:
If you pack it in, you must pack it out. Do not leave food caches, broken equipment, or glacier wands.
Fixed lines or fixed protection you place must be removed at the end of your climb.
Human waste should be deposited into crevasses.

Permitting
All climbing expeditions that enter Kluane National Park and Reserve, Canada, must secure a permit in advance from Kluane National Park and Reserve, per their requirements.

Visitors travelling by foot into Kluane National Park and Reserve from Alaska will not be issued a permit without prior clearance from Canada Border Services Agency. Contact Canada Border Services at 867-667-3943 or 613-948-7878.

Visitors intending to enter Alaska from Kluane National Park and Reserve must obtain prior approval from U.S. Customs & Border Protection. Contact U.S. Customs & Border Protection at 907-767-5511.
The first ascent of Mt. Blackburn was done by Dora Keen in 1912. She made her ascent via a direct route on the Kennicott Glacier.

Read the story of The First Ascent of Mount St. Elias.


Last updated: December 16, 2019