Lodging for McCarthy Road and Kennecott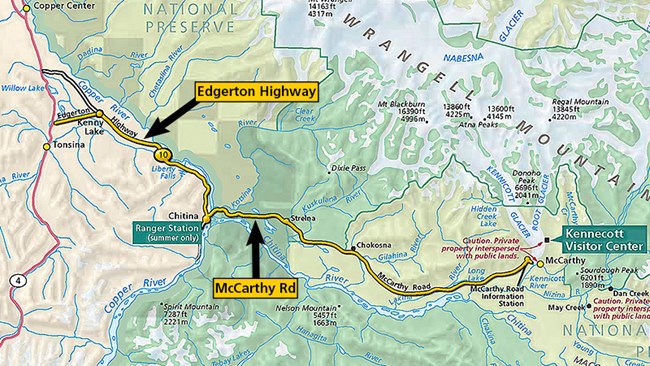 Kennecott and McCarthy Accommodations Guide
All phone numbers start with area code 907, unless otherwise indicated.
These listings are provided as a service to our visitors and imply no specific endorsement by the National Park Service or Wrangell-St. Elias National Park & Preserve. The information below changes frequently and may not be up-to-date. For best results, search the internet for the web site of the business
you wish to contact.
| | | | |
| --- | --- | --- | --- |
| Name | Phone # | Location | Type of Accommodation |
| | | | |
| --- | --- | --- | --- |
| Wellwood Center B&B | 822-3418 | Mile 5.5 | Bed &breakfast |
| Copper Moose B&B | 822-4244 | Mile 5.8 | Bed &breakfast |
| Kenny Lake Mercantile | 822-3313 | Mile 7.2 | RV park w/hookups, tent sites, motel rooms |
| Kenny Lake Chalet | 822-4034 | Mile 7.7 | Log cabin |
| Golden Spruce Cabins | 822-5556 | Mile 9.9 | Log cabins,RV sites without hookups |
| Liberty Falls State Park | none | Mile 23.5 | Campground, toilets, picnic tables |
| Wrangell View RV Park | 823-2265 | Mile 28.4 | RV park w/hookups |
| Chitina Guest Cabins | 823-2266 | Mile 32.2 | Log cabins, bunkhouse, hostel |
| One Mile Lake Cabin | 823-2255 | Mile 32 | Cabin, kitchen, no running water |
| Gilpatrick's Hotel Chitina | 823-2244 | Mile 33 | Historic hotel |
| Chitina House B&B | 255-2298 | Mile 33 | Bed &breakfast |

McCarthy Road
| | | | |
| --- | --- | --- | --- |
| Name | Phone # | Location | Type of Accommodation |
| | | | |
| --- | --- | --- | --- |
| Copper River Campground | none | Mile .1 | Campground, toilets, picnic tables |
| Alaska Halfway House B&B | 406-224-0717 | Mile 27 | Cabin, bed &breakfast, bunkhouse, camping |
| Currant Ridge Cabins | 554-4424 | Mile 56.7 | Log cabins |
| Aspen Meadows B&B | 554-4454 | Mile 58 | Cabins, bed and breakfast |
| Glacier View Campground | 441-5737 | Mile 58.9 | Campsites, RV sites without hookups, cabin |
| McCarthy B&B | 554-4433 | Mile 59 | Bed and breakfast, cabins |
| Kennicott River Lodge &Hostel | 554-4441 | Mile 60 | Cabins, lodge rooms, dorm rooms |
| Base Camp Root Glacier | none | Mile 60 | Camping |
| McCarthy Lodge/Ma Johnson's Hotel | 554-4402 | McCarthy | Historic hotel |
| Lancaster's Backpacker Hotel | 554-4402 | McCarthy | Backpacker's hostel |
| Kennicott-Mt Blackburn B&B | 425-351-5021 | McCarthy | Cabin |
| Blackburn Cabins | 554-1075 | McCarthy | Cabins |
| Kennicott Glacier Lodge | 258-2350 | Kennecott | Modern hotel and lodge |
| 17 Silk Stocking Row Cabin | 612-701-4136 | Kennecott | Historic cabin |
Last updated: May 6, 2019