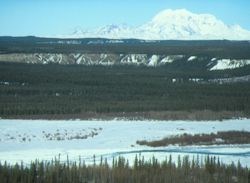 LOWLANDS
The lowlands in the park range from coastal sitka spruce forests along the Malaspina Forelands to the interior taiga forests. Areas underlain by permafrost in lowland basins and north-facing slopes support slow-growing black spruce (Picea mariana) muskeg. Common understory shrubs in these areas include:
Alder (Alnus crispa)
Dwarf birch (Betula glandulosa)
Crowberry (Empetrum nigrum)
Labrador tea (Ledum groenlandicum)
Shrub cinquefoil (Potentilla fruticosa)
several willows (including Salix alaxensis, S. arbusculoides, S. glauca, and S. planifolia ssp. pulchra)
blueberry (Vaccinium uliginosum).
Common mosses include Hylocomium splendens, Pleurozium schreberi, and Sphagnum spp. Black spruce stands burn periodically, and trees of more than 100 years of age are uncommon.