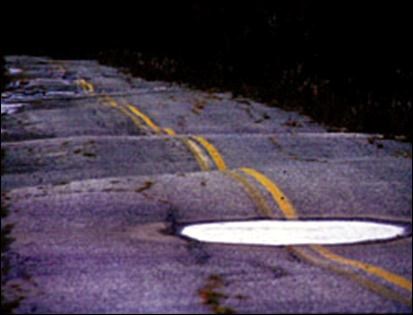 Permafrost in Alaska
Approximately 85% of Alaska is underlain with permanently frozen ground, or permafrost. In Alaska, permafrost occurs as a continuous sheet north of the Brooks Range, extending from a few inches be-low the surface down to as deep as 1,300 feet. As one goes south, the permafrost gets progressively thinner, while the melted layer on top gets thicker, and holes or gaps begin to appear in the frozen ground.
White spruce, cottonwood, birch, and certain willows will live where there is approximately 4 feet of soil above the permafrost. Black spruce can live where there are only 18 inches of ground above the perma-frost. Less than 18 inches of non-permafrost soil is usually covered with Labrador tea, blueberries, wild cranberries, moss, and lichens. Permafrost is caused by extremely low temperatures for long periods of time. Alaska's lowest official temperature is -80 degrees F, reported on January 23, 1971 at Prospect Creek, just north of the Arctic Circle. However, Slana has recorded a low temperature of -93 degrees F.
Permafrost in the Copper River Valley
Permafrost underlies the entire Copper River Valley at varying depths except on flood plains and under lakes. The depth at which it occurs and its ice content varies widely. Permafrost characteristically occurs as ice crystals disseminated throughout the soil. Although not extensive near the soil surface, massive ice wedges and lenses do occur in the subsoil in some areas. A perched water table and saturated conditions are common above the permafrost during the summer due to restricted drainage.
The fire history of the site and the thickness of the insulating organic layer on the soil surface control depth to permafrost and water table, in part. Disturbance of the organic layer usually results in increased soil temperatures and a lowering of the permafrost level. As permafrost thaws, a large volume of water is released. Variation in the ice content of the permafrost and the rate of thawing results in differential sub-sidence of the soil surface and slumping on steeper slopes. The occurrence of permafrost requires special consideration when selecting lands for clearing and agriculture and during construction of roads and buildings.