History of the Chisana Mining District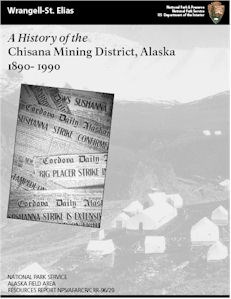 The scene of Alaska's last important gold rush, the Chisana district played a key role in the history of interior Alaska. While few struck it rich, the resulting demand for materials and supplies helped establish regional transportation networks, encouraged supporting industries, and hastened the exploration and settlement of both the Copper and Tanana Basins. The Chisana district was particularly significant from 1913 to 1915, the period encompassing its discovery, stampede, and boom. It remained important through 1942, when war-time exigencies virtually ended local mining.
Wrangell-St. Elias National Park and Preserve historian Geoffrey Bleakley originally produced the History of the Chisana Mining District (pdf format 5 MB) in 1996 as part of a broader effect to document, evaluate, and interpret the historic features still occupying the Chisana-Gold Hill landscape. That effort also generated two related studies: Carol Feldman's "Chisana-Gold Hill Landscape: A Cultural Landscape Report," and Geoffrey Bleakley's nomination of the "Chisana Historic Mining Landscape" to the National Register of Historic Places.
Last updated: February 22, 2018