I'm Kristi, an interpretive park ranger at Wrangell-St. Elias, and I was given the opportunity to hike with Ranger Evan Olson on a patrol from Wolverine to Skolai on part of The Goat Trail.
The first day the weather was a little troublesome, with low-hanging clouds and periodic raindrops.  We weren't sure we were going to be able to fly into Wolverine, which is at about 5500 feet.  However, our pilot was able to land and our trip began!  We hiked through tundra fields and hills, saw amazing geology and glaciers, and finally settled into our campsite for the night.  We were surrounded by basalt cliffs and above us was the edge of a hanging glacier that clung to the mountain above another cliff.  We also enjoyed seeing Dall sheep, Arctic ground squirrels, and collared pikas.
The second day was the day we hiked the infamous scree slopes!  There's a loose "trail" across them, but they get a little sketchy at times.  We had heard that a visitor had dropped his backpack down the scree slopes about a month earlier.  After we meticulously made our way across the slopes, Ranger Olson saw the backpack lying far below - we are guessing about 500 feet down.  Ranger Olson decided to hike down to retrieve the pack - It took him about 8 minutes to reach the pack, and about an hour to hike back up.  It's a good thing he got it, because a lot of gear had been strewn down the slope.  Ranger Olson attached the extra pack on top of his own pack, and we continued our hike above the Chitistone River.
The last day we hiked up and over Chitistone Pass.  It is a fairly gentle slope up to the pass, and we were lucky to have some beautiful, sunny weather to guide us there.  We passed sweeping glaciers, towering mountains, huge glacial erratic boulders, and open, green tundra meadows.  We made it over the pass and descended an enormous tundra hill down into the wide Skolai valley.  On one end of the valley is the Russell Glacier, and on the other end is Skolai Creek.  This creek drains into the Nizina River drainage.  The Russell Glacier is the source of the White River, which ends up in Canada and eventually the Yukon River.
We did this patrol in three days and stayed above tree line the entire way, except at the the very end at the Skolai airstrip.  Overall the trip ended up being about 21 miles.  Ultimately, it was a challenging, rugged, and beautiful hike through a pristine wilderness area of Wrangell-St. Elias.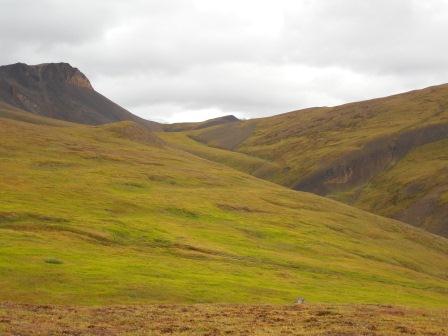 Tundra starting to change to fall colors near Wolverine airstrip.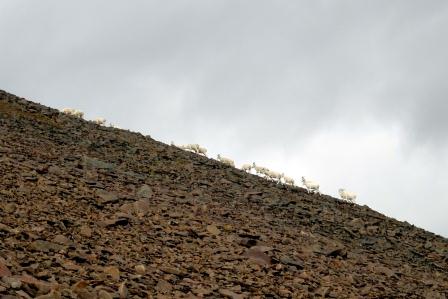 Dall sheep on the ridgeline.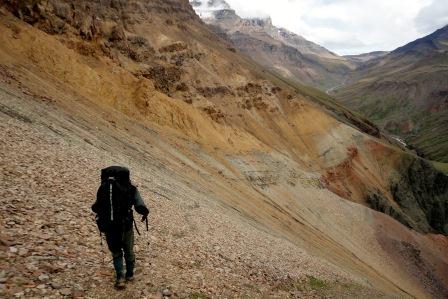 Starting across the infamous scree fields on the Goat Trail.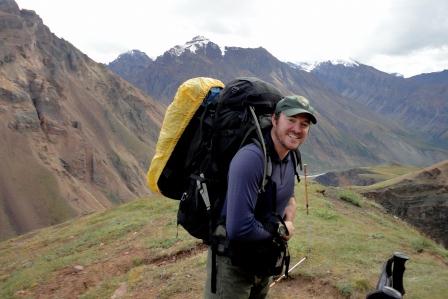 Why carry just one backpack when you could carry two?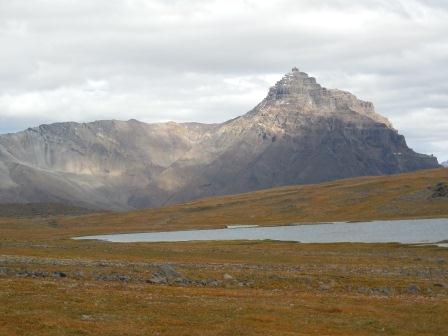 Castle Mountain from Chitistone Pass.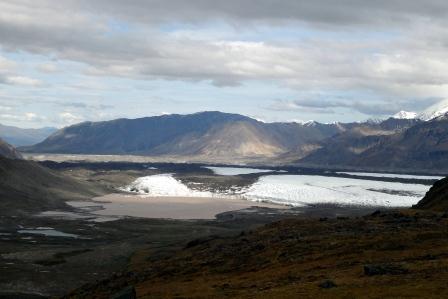 Skolai Lake and Russell Glacier.