"So what kind of gear should I use?"
I get this question a lot.  The simple answer is I don't know because it depends.  This answer earns me plenty of disgusted looks.  I know what works for me in the environment that I am in and for the patrol or trip that I'm on, but that is no guarantee that it's going to work for you.  So before I go any further I need to slap a big, fat disclaimer on all of this. 
I have no idea what will work for you.  All I can tell you is what works for me.  People come in all kinds of unique shapes and sizes with unique goals and adventures planned and there is no gear that will work for everyone all the time.  Sorry, there just isn't.
But this is what works for me, most of the time.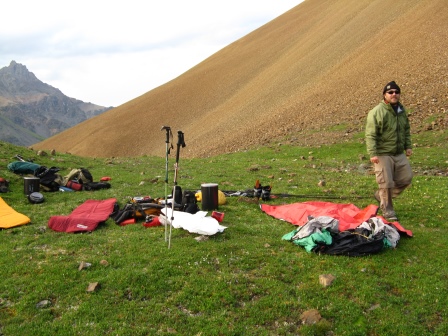 Unpacking at camp becomes an impromptu yard sale.
Let's start with boots and footwear.  My general philosophy is that my boots are going to get wet.  They might get wet from crossing a creek or river, rain soaking through my pants and then running down my legs or my tent partner haphazardly shoving them just far enough outside the tent vestibule to fill up with rain water.  My plan to deal with wet feet is to carry camp shoes and dry socks.  I change into these as soon as I get to camp.  I don't bother to change into sandals to cross rivers or creeks.  On braided rivers I may end up crossing channels dozens of times in a single day.  I'd never get anywhere if I took off my boots every time.  The best boots are the ones that fit your foot well and don't hurt when you hike in them.  For most off-trail backpacking trips I wear a light but stiff mountaineering boot.  I also use gaiters most of the time, these help to keep rocks, sticks and water out of my boots.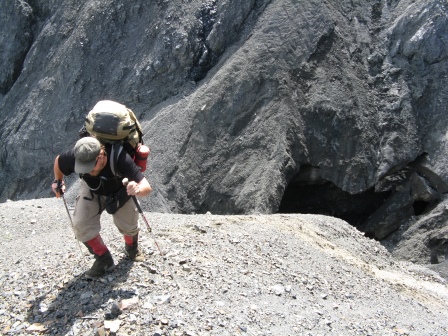 Gaiters help keep rocks, sticks and water out of your boots.
Clothing:
Ah the layering system…  My normal kit consists of a uniform shirt made of cotton (yeah, I know), a wool or synthetic underlayer, a synthetic midweight layer and a synthetic puffy jacket.  I have a rain jacket that can fit over all these layers.  I wear nylon hiking pants that dry quickly and carry an underlayer to change into at camp on rainy days.  I carry rain pants but I don't usually hike in them.  I wear them at camp to keep the underlayer dry.  I prefer wool when I can afford it and synthetic puff jackets over down for summer trips.  It rains here, sometimes a lot, and down is pretty worthless once it's wet.  I try to buy things that will last a long time since I use these things on almost every trip I do whether it's rafting, mountaineering or backpacking.
Backpack:
I use a Dana Designs Terraplane, an old one, a Made in Bozeman, MT USA one.  This is not the lightest pack out there, not even close, but I haven't found a pack that can carry a big load as well as this one.  Dana Designs no longer exists so I don't have any problem shamelessly plugging them.  I hear a lot of chatter about superlight this and ultralight that.  I can't go superlight.  I am required to carry a bunch of equipment on patrols that I would not necessarily carry on personal trips and that weight adds up.  I need a pack that can handle a heavy load and my Terraplane has always been up to the task.  Last season when I decided to carry a backpack out of the backcountry that a visitor had abandoned I knew my Terraplane could handle it.  I also use a Dana Design Astralplane when I need a backpack that can carry more than I ever should.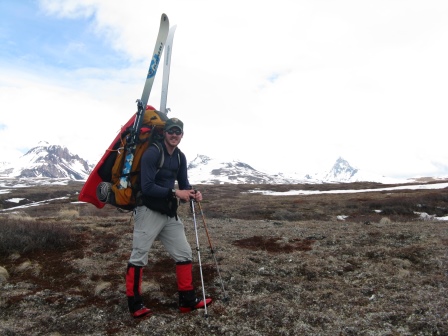 Skis, sled, plastic boots...  Shouldn't there be snow around here?
  The right tool for the job… 
This is the most important part.  Get the right gear for you and the trips that you have planned.  It will take some patience and some practice to figure out what will work best for you.  Try on lots of different boots and talk to people that really know there stuff and aren't just trying to sell you this year's popular color.  Good gear doesn't need to cost a fortune, but if you are going to use it a lot don't skimp either.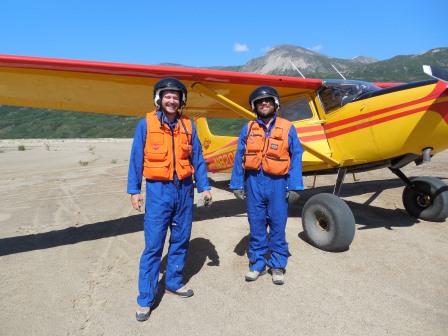 The right gear for a short bush flight or maybe a mission to the moon...
And finally…
Stop worrying about gear so much!  Gear is just a means to an end.  Go outside!  It doesn't matter if you have the nicest, most comfortable, most sleek and stylish boots or backpack or tent in the world if all they do is sit in your closet.  Get out there!