Autumn is an excellent time of the year for a hike in Wrangell-St. Elias, but it also presents several challenges. It is an excellent time because the mosquitoes have vanished, but it is fleeting and winter continually reminds you that it is not far off.  The seasons are changing here in the boreal forest and the beginning of our trip began in excellent weather with little cloud cover. The forecast suggested this would not remain the case through the evening and, unlike most forecasts, it proved to be accurate.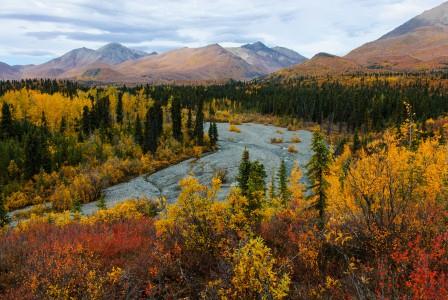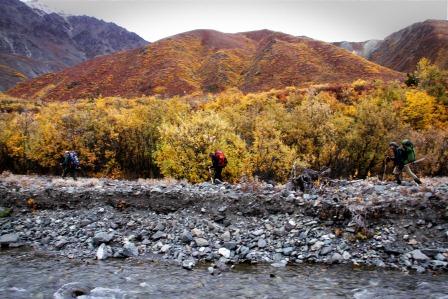 The four of us began hiking up trail creek, parking our vehicle at the lost creek trailhead where we would ultimately end up. The Trail Creek to Lost Creek loop is a beautiful hike that requires route finding for a portion of the trip; it is also one that does not end at the same place that you started. The trail starts out as an ATV route that, for the most part, follows the creek drainage while occasionally crossing the creek itself.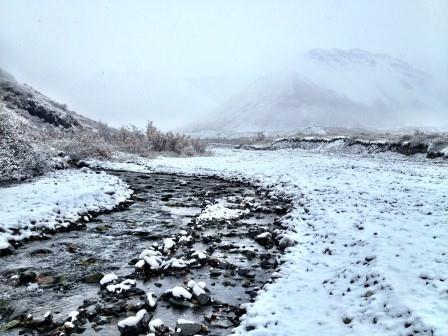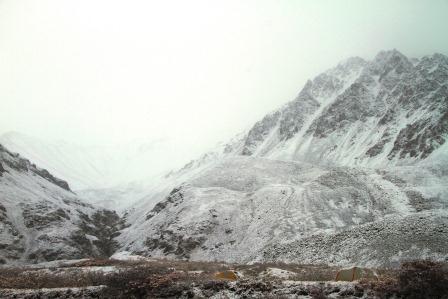 We hiked the first day covering roughly 9 miles up Trail creek, ending the day near a seasonal creek drainage at about 4500 feet elevation (After starting around 3000). As we set up camp, snow began falling lightly, portending what the night would bring. After dinner, and overnight, snow accumulated to the tune of about 2 inches, with an accompanying icy wind dropping the temperature into the 15-20 degree range. The morning brought a winter wonderland, weighing down the few remaining leaves on the surrounding willows. The snow was not finished however and during the morning it continued, accumulating an additional inch before the decision was made to turn around. The trail eventually would pass at around 6000 feet and seeing nothing but snow and thick fog prevailing, it didn't make sense to advance further into the void. The return hike held spectacular snow dusted scenery, but held cold and somewhat swelled Trail creek crossings several times.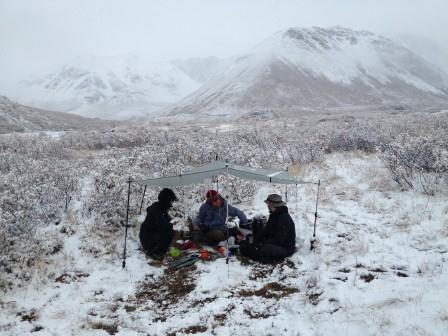 We returned to the vehicle knowing we had made the right choice.  The scree filled pass would have been made even more dangerous by the veiling snow and the limited visibility.  Still, we could not help but to feel a tinge of regret at not being able to finish what we had set out to accomplish.  Luckily the route will be there next year posing the same challenge.  We will return to finish what we started and the second time around will be even better.
Hike participants:  Katie Moser, Matthew Yarbrough, Jordan Cook, and Bryan Petrtyl