A couple weeks ago myself, another ranger and a volunteer completed a raft patrol on the Copper River from Slana down to Chitina.  This raft patrol had several objectives.  One of the primary goals was to have a look at how the river has changed after the significant flooding this spring.  Breakup came really fast this year and late snowfall on the north side of the park provide extra water runoff.  As a result several of the rivers that feed into the Copper saw record levels of flooding.  The Gulkana, Slana, and Gakona all had significantly larger volumes of water during breakup this year.  We wanted to see how this water had changed the character of the river.  The patrol was also a training exercise for myself and the other ranger to further develop our river skills.  The volunteer that joined us for this trip is a very experienced river runner and has run the Grand Canyon 31 times.  The park is really fortunate to have such an experienced volunteer working with us.  
The float went smoothly.  It took us four days to get to Chitina, although each day was pretty long.  If I did the float again I would add at least one day.  The weather was beautiful for most of the float with no rain and hot afternoons.  The bugs were numerous as soon as we got off the gravel bars.  The bugs seem to be particularly bad this year.  We did notice a number of new channels that the river has carved and a lot of debris in the river.  Most of the float was technically easy with a few tight spots to maneuver between root balls and fallen trees.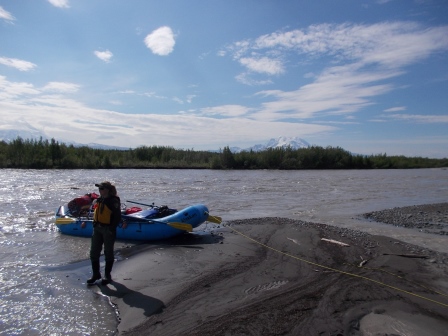 Copper River with Mount Drum in the background.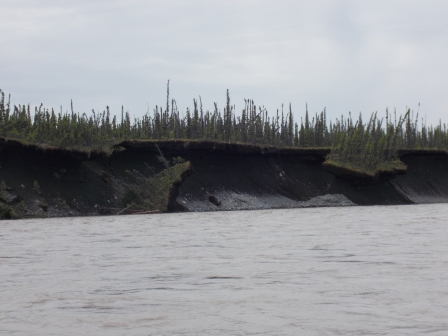 Bank erosion on the Copper River.  Large pieces of the bank break off, but the vegetation near the surface holds them together.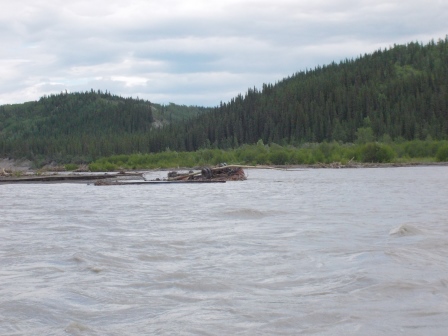 Old bus slowly being swept downstream.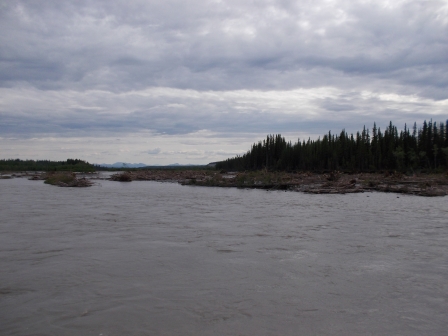 Trees knocked down by the flooding on the Copper River this spring.  
We saw many areas that had been damaged by the spring floods.  Over time the river naturally changes course.  This spring the river created a number of significant new channels.  It was pretty amazing to see the power of the river.  The patrol was a success.  We got some good training in and patrolled a section of the river we haven't been on in a few years.