Park Store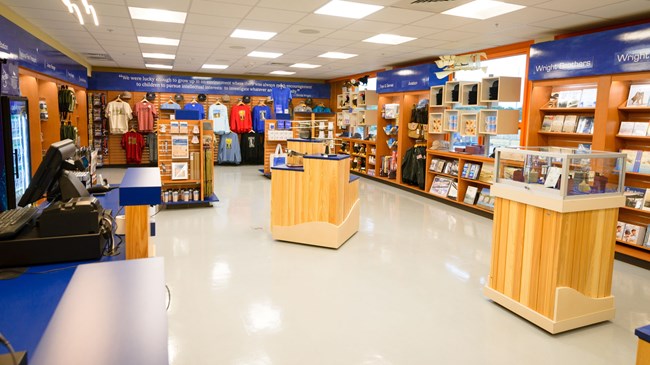 Visit the Wright Brothers National Memorial online store.

The Park Store, located within the Wright Brothers National Memorial Visitor Center, is the best place to shop for all educational material related to the Wright Brothers and the beginning of powered flight. From books to postcards to souvenirs, the Park Store offers the best momentos for your visit to the park. All of the products have a strong educational value and assist the educational programs of the National Park Service.
The store is operated by park partner Eastern National. Proceeds from the Park Store are returned to the park to support visitor services including the publication of the park newspaper, funding vital interns and seasonal positions, and supporting projects to help ehnance the educational experiences of Wright Brothers National Memorial.
Eastern National currently operates educational retail outlets in 30 states, from Maine to the Caribbean. During the last 50 years, Eastern National's contributions have benefited the parks and visitors in many ways. Eastern National has supported research in cultural and natural resources to provide a sound basis for educational and park management activities. Thier publications program has produced an array of distinguished and informative books and hundreds of folders, many distributed free of charge.


Last updated: February 2, 2020