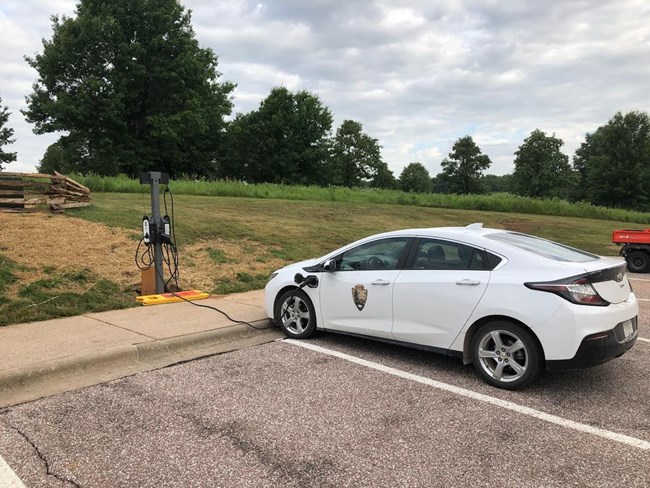 Wilson's Creek NB Installs First Charging Station
for its EV Chevy Volt

Wilson's Creek NB continues to demonstrate sustainable technology. Through a grant from the Department of Energy, managed by the National Park Service, Wilson's Creek NB received an electric Chevy Volt and pedestal. The battlefield then partnered with Ozark Electric Cooperative, Inc. to install the charging pedestal.

The unit was placed in front of the Visitor Center for easy access and in view of the public. The staff and volunteers utilize the Chevy Volt to perform their regularly scheduled duties in the park and for travel to the greater Springfield area.

This is the park's first plug-in vehicle, but it will not be the last. Other sustainable elements that are utilized at the battlefield include a hybrid Toyota Prius, photovoltaic parking lot lights, an entrance sign illuminated by photovoltaic panels, propane powered lawnmowers, waterless urinals, LED lights, solar tubes, a rain garden, and motion detection lights. "The battlefield is doing our part in demonstrating sustainable practices and being good stewards with our natural resources, so the next generation can utilize these resources," said Supt. Hillmer.