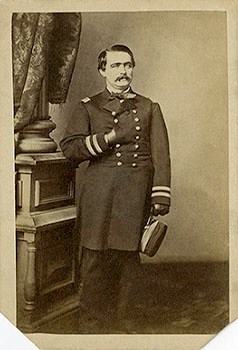 George Brown
George Brown was born on June 19, 1835, in Rushville, Indiana. He entered the Naval Academy in February 1849 and became certified as a midshipman. Brown served on the
USS Cumberland and USS St. Lawrence
until he transferred to the
USS Powhatan
as a lieutenant in 1856. While serving on the
USS Powhatan
, Lieutenant Brown spent four years patrolling and fighting along the coastlines of Brazil and Western Africa. Once the Civil War began, he was transferred to the
USS Ottawa.
In June 1862, he served with Captain David G. Farragut in the first attack upon Vicksburg, Mississippi. In July 1862, Brown was promoted to lieutenant commander and was transferred to the
USS Indianola
. On February 24, 1863, the
USS Indianola
engaged four rebel gunboats and was captured and set on fire. Brown was captured and sent to Libby Prison in Richmond, Virginia, and was released in May 1863. A year after his release he participated in the Battle of Mobile Bay, Alabama, in August 1864. After the Civil War ended, he was promoted to commander and transferred to the Washington Navy Yard in 1866. In 1877, Brown was promoted to captain and assigned to command the Norfolk Navy Yard in Portsmouth, Virginia. In 1893, Brown was promoted to rear admiral, and on June 19, 1897, he retired from the U.S. Navy. He passed away on June 29, 1913, and was buried in Indianapolis, Indiana.