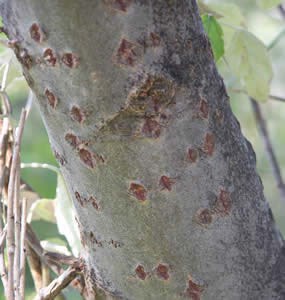 Look at the leaves of the silver poplar! They are two-toned—one side green, the other white and felted.
Silver poplars can also be identified by the darker markings that spot its bark. When the tree is young, the marks are diamond-shaped, but as the tree matures, the characteristic diamond-shape begins to crack and split.
Some Native American tribes ate the inner bark as an energy source; some used it for medicinal purposes. Because poplar wood is so flexible, today it used in snowboards, electric guitars, and drums.