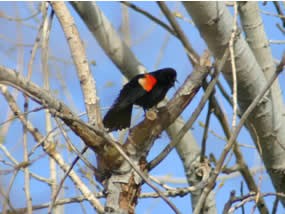 Whitman Mission National Historic Site supports a surprisingly rich diversity of bird life. A large proportion of the species are migratory and wintering birds, indicating the importance of the 98-acre parcel as a stop over for those species. The Mill Pond is used by many species of waterfowl and the riparian and grassland vegetation attract a wide variety of passerines. Of particular note are the many insectivorous flycatchers, vireos, and warblers that use the historic site as a migratory stop over and as a nesting area. Another important resource for birds are the dead and dying cottonwood trees found along Mill Creek and the Walla Walla River. These snags provide important resources for primary cavity nesters, such as the northern flicker and provide even more critical habitat to secondary cavity nesters such as the western screech owl. Rookeries of black-crowned night herons and great blue herons exist along Mill Creek near the west boundary of the historic site.


---
Material excerpted from:
2002-2003 Vertebrate Inventory: Whitman Mission National Historic Site.
University of Idaho and National Park Service Columbia Cascades Support Office.