Good Plants vs Bad Plants
"Good" and "bad" are relative terms. It depends on who you are and what you are trying to accomplish. When restoring a creek, or other ecosystem, native plants are usually preferred, because they generally offer the most benefit for native animals. In this case they are the "good" plants. Non-native plants, especially aggressive invasives, can displace native plants. These non-natives often do not provide the nutrients and/or shelter needed by native animals.
Vegetation plays an important role in the Doan Creek Restoration Project. Plants in the creek add oxygen to the water. Vegetation along a creek provides erosion control and shade to keep water temperature cool in the summer. Plants eligible for use include native grass species (wheatgrass and Idaho fescue), native shrubs (golden current, elderberry, and chokecherry) and native tree species (black hawthorn, willow, birch, alder and cottonwood).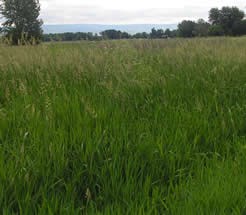 A field of non-native reed canarygrass covered the proposed site for the restored Doan Creek channel. Reed canarygrass is an invasive species that excludes native plants, creating large fields with little plant diversity. It is considered a
"Class C" weed
in Washington state. Though it may look green and luscious, a field of reed canarygrass provides less food for native animals than a field filled with a variety of native plants. In addition, the stems of reed canarygrass grow too tightly together to provide good cover for native waterfowl and small mammals. Non-native reed canarygrass is considered a "bad" plant as far as the Doan Creek Restoration Project is concerned.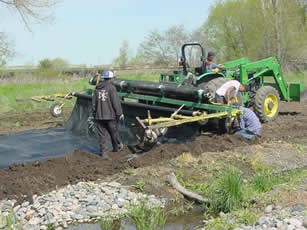 Before native plants could be planted, the reed canarygrass had to be removed. The park mowed the existing stand and then applied herbicide. Afterwards the ground adjacent to the new streambed was covered with black mulch cloth to prevent new reed canarygrass plants from growing from seeds or rhizomes. Beyond the mulch cloth herbicides are periodically applied; reed canarygrass removal is an ongoing process.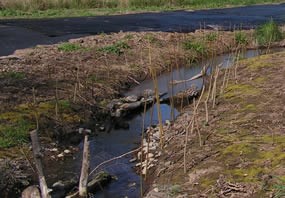 In 2007 stakes of native alders and willows were planted along the new streambed. They may look like just a line of sticks in this 2007 photo, but within a few years they will be lush shrubs. Black mulch cloth, which prevents invasive plants from returning, can be seen in the background.
Last updated: March 1, 2015