Temporary Area Closures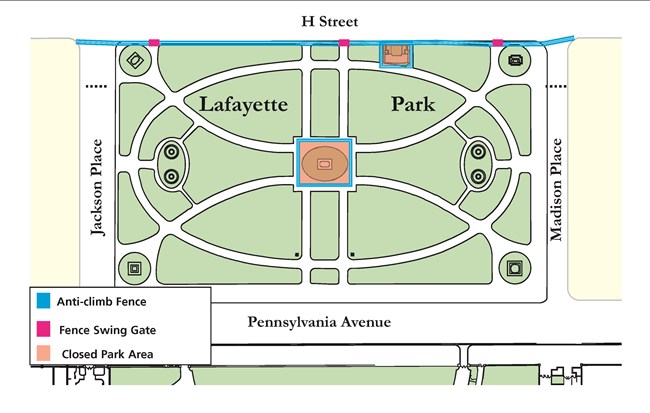 Current Closures
Notice to the Public - Lafayette Park Fencing - Damage Assessment and Protection - July 30

July 30, 2020

NOTICE TO THE PUBLIC

The National Park Service will reopen most areas of Lafayette Park to public use on July 31, 2020, with certain temporary and limited modifications to the space through August 31, 2020. The National Park Service will maintain the existing anti-scale fence on the northside of the park along H Street N.W. with:
(a) three gates installed to allow for public ingress and egress during ongoing resource protection and restoration measures; and
(b) additional anti-scale fence installed around the Statue of Andrew Jackson and the Lafayette Park Lodge House, which are undergoing repair and restoration.
A map illustrating the fencing; associated gates; and closed park areas is attached. Closures of the various parts of Lafayette Park will be identified by fencing and signage. Violation is prohibited.

The National Park Service appreciates the public's cooperation in this matter.

/s/ John Stanwich
National Park Service
Interior Region 1 - National Capital Area


Archive
Notice to the Public - Lafayette Park Statuary Damage Assessment and Restoration - June 23, 2020 through July 31, 2020

Notice to the Public - Lafayette Park Statuary Cleaning and Protection - June 18, 2020 through July 31, 2020

Closure Notice - Areas of President's Park - June 4, 2020 through June 10, 2020
Last updated: August 3, 2020