Passport To Your National Parks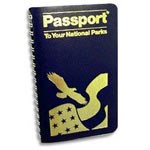 The National Park Service Passport is produced by the Eastern National Park & Monument Association as a means of recording visits to the different NPS sites with a rubber cancellation stamp.
It also allows you to collect special adhesive stamps of the different NPS sites (9 are issued each year, 1 being a larger 'national' stamp). The purpose of these pages are to assist those seeking to visit, and record their visit with the site's passport cancellation stamp for the particular site. The cancellation lists the site and the date of visit for the holder.
By acquiring and recording your visits to the different NPS sites, you'll be able to look back through your Passport and recall the many memories and roads that you have taken!
Last updated: April 6, 2016