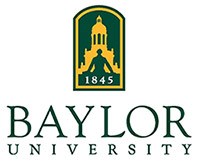 Baylor University and Mayborn Museum
Since the discovery of the site in 1978, museum staff, students and volunteers have spent thousands of hours excavating and working to preserve the fossil material. The remains excavated through 1990 are now housed at Baylor University's Mayborn Museum. With the designation of Waco Mammoth as a national monument, the Mayborn has been acknowledged as an official repository for the National Park Service.
The Mayborn Museum gives visitors another way to experience this Central Texas wonder. The Waco Mammoth Site Exhibit displays original casts of the fossils beneath a glass floor, allowing visitors a unique, up-close view of exactly how excited excavators found the mammoth bones at the site. A large-screen film and interactive stations tell visitors the story of the mammoth's lives in Texas and the remarkable scientific discoveries at the site.